Let's Talk Paper! Next to the Invitation, the RSVP Card is one of the most important elements in your Invitation Suite. We asked Kim with paperkuts Studio to give us the 411 on RSVP Cards.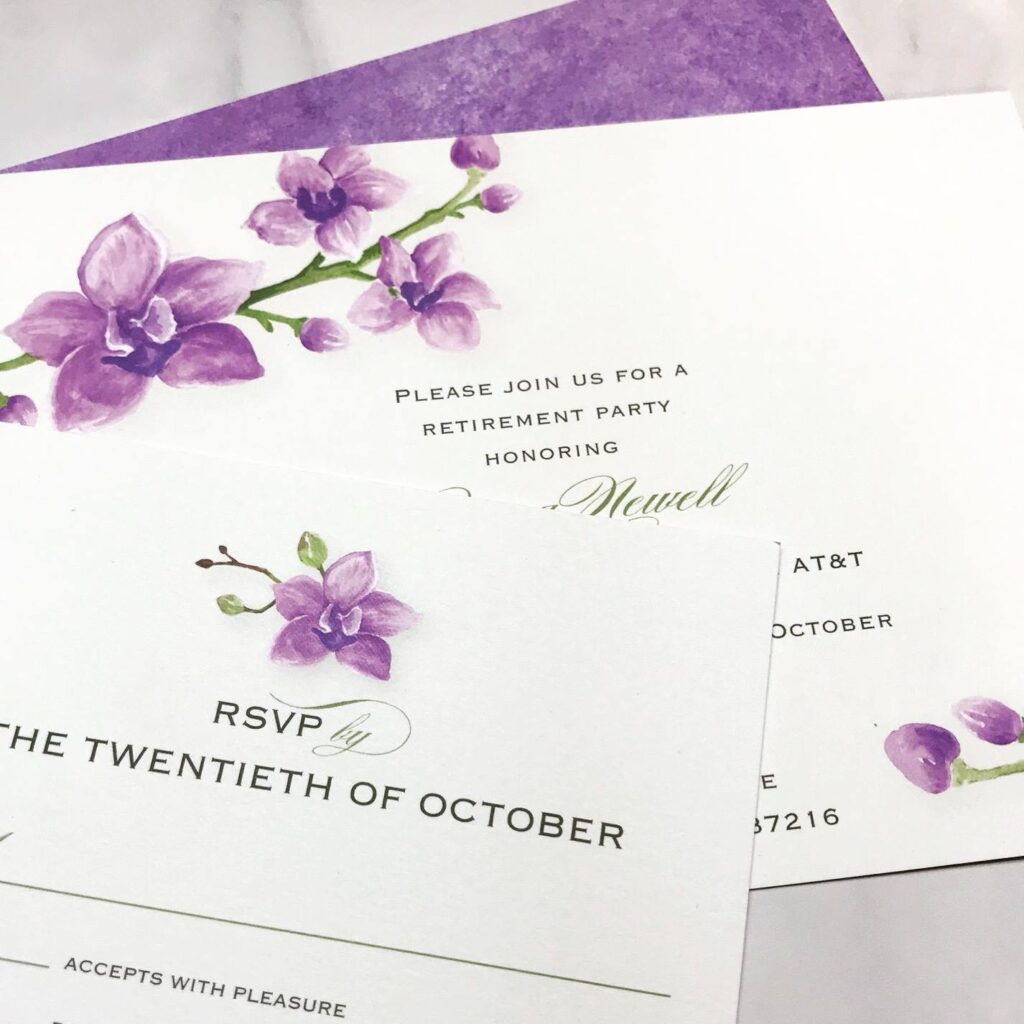 What Does RSVP Mean?
The term "RSVP" comes from the French expression répondez s'il vous plaît, meaning "please respond." If RSVP is written on an invitation, it means the host has requested that the guest respond to say if they plan to attend the party.
What to Include On a Wedding Response Card (aka RSVP Card)
Your response card, RSVP, will indicate who will or will not attend your nuptials. An RSVP card can include the following:
"Reply By" Date. The RSVP reply due date is usually two to three weeks before the wedding. This gives hosts time to follow up with guests who have yet to reply and to give accurate head counts to wedding vendors, such as caterers, rental companies, etc.
A blank line for the guests to fill out their names as well as the name(s) of a spouse, a date or children who will also be attending the wedding. You will use this information to create the final guest list and for the table place cards.
Number of Guests Attending. The "Will Attend" Line. The "Unable to Attend" Line.
Adding Entrée Choices. If you are offering an entrée choice at your reception, it's a good idea to include a way for guests to indicate their preference, usually by writing their name or initials next to their selection. Since guests may not remember which entree they chose, have a discreet system at the reception dinner to alert servers, such as a decoration on the guest's place card, that indicates "beef," "fish," or "vegetarian."
What Not to Include on a Wedding Response Card?
It's never proper to include information about your registry in the main wedding invitation or on the wedding response card.
How to Avoid the Mystery Wedding Guest?
Guests often forget to write their names on the response card which leaves couples trying to figure out who the mystery guests are. There are several ways to ensure you can match the RSVP to the correct guests.
Put a number in the corner of each RSVP card which correlates with the number on your guest list.
Use an invisible black light ink marker to write the guests' initials on the back of each RSVP card. If a card comes back with no name, use your black light to discover the mystery guest.
Sample Wedding Response Card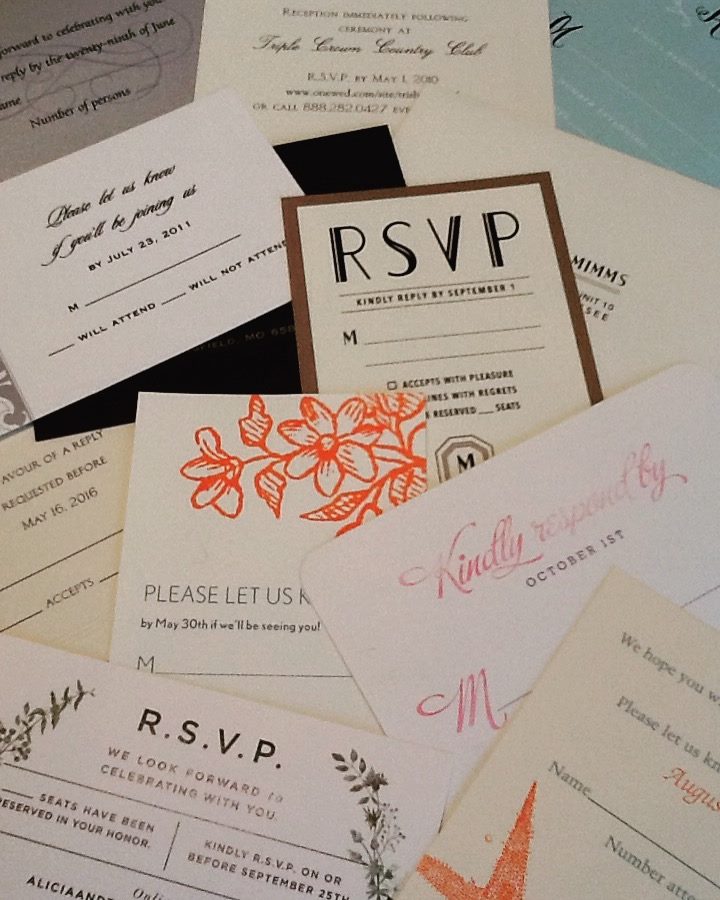 Here are three varieties of wording for a standard wedding RSVP card. A great stationer like Kim with paperkuts Studio can assist with the correct wording.
Wedding RSVP Card
(No Entrée Options)
Kindly Respond by
the twenty-second of July
M____________
___Accepts with Pleasure ___Declines with Regrets
Wedding RSVP Card With Entrée Options 
The Favor of your response is requested by
the fifteenth of December
M____________
___ Joyfully Accepts ___ Regretfully Declines
Please initial the meal choice for each guest
_____ Filet Mignon
____ Baked Chicken
____ Quinoa with Tempeh
Wedding RSVP Card For Phone Or Email Responses 
M____________
___ Will Attend ___ Unable to Attend
Kindly Respond by
the eighteenth of January
LaurenandClark@mail.com
Response Envelope
Be sure to include a response envelope. The Response envelope will be pre-printed with a return address and must include postage!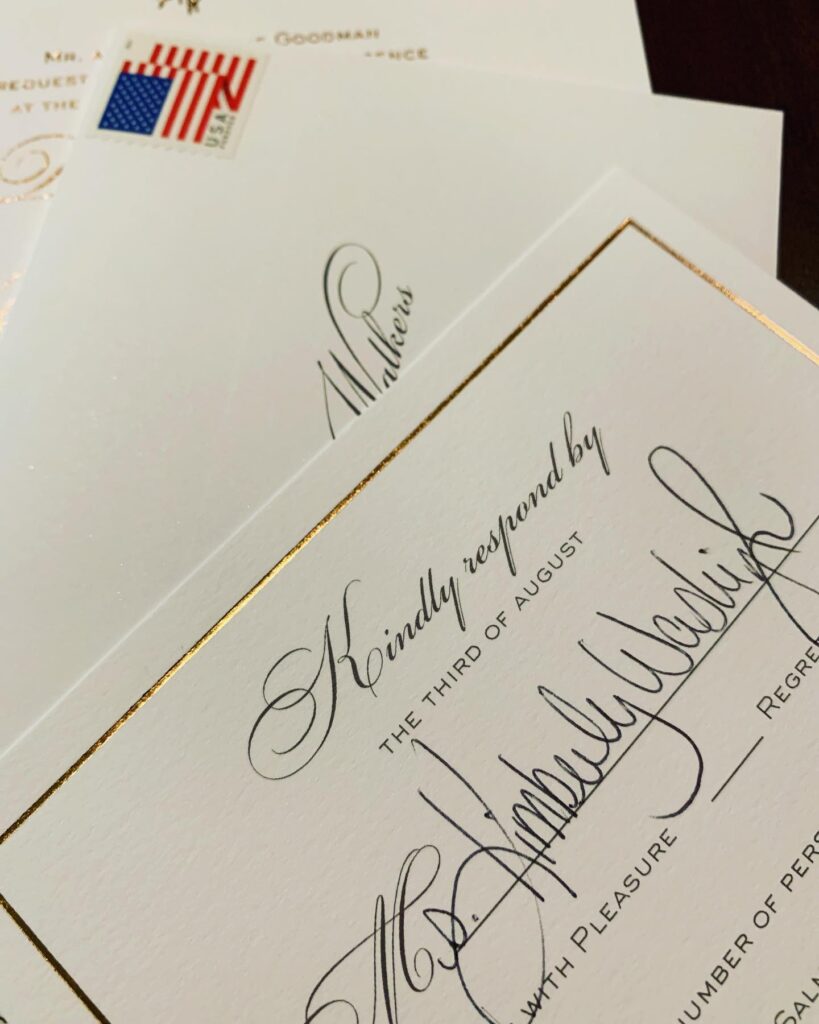 Missing RSVPs
One concern is should you call guests if they do not reply by the requested date? The answer is a definite YES! So many decisions for an event rely on the number attending. It's all in your delivery. Turn on the charm and get the info you desperately need.
Want to chat more? RSVP to: kim@paperkutsstudio.com
PEACE•LOVE•PAPER