We are so excited and happy for Linda Dancer of Honeymoons, Inc for receiving two awards for 2018! Linda and her company Honeymoons Inc. were honored at the Prestigious Sandals RESORTS S.T.A.R. AWARDS. Linda is the newest member of the Chairman's Royal Club and is also a Sandals Resorts Platinum Wedding Specialist. In addition, she was also chosen as one of the Top 50 Jamaica Travel Specialists for 2018.
Here is the press release from Sandals Resorts for Linda's accomplishments.
Sandals Resorts International, voted World's Leading All-Inclusive Company for 23 consecutive years, has recognized Honeymoons, Inc. for its outstanding achievement at the 17thannual Sandals Travel Agency Recognition (S.T.A.R) Awards held recently at Sandals Ochi Beach Resort.
This prestigious event honoring travel agencies from across the U.S., Canada, the U.K. and Latin America awards top travel agencies for not only their exemplary sales performance and marketing expertise but for their commitment to using their extensive product knowledge of the world's best Luxury Included® resorts in creating dream vacations for their clients.
Honeymoons, Inc. awards included: Best of the Best and Linda Dancer is Tennessee's newest member of Chairman's Royal Club, in addition she is also a Sandals Resorts Platinum Wedding Specialist.
"We value the hard work of travel agents like Linda Dancer, and take the opportunity to commend them as they are essential in bringing the Sandals Resorts' and Beaches Resorts' vacation experiences to life for their clients," said Gordon Butch Stewart, Chairman of Sandals Resorts International.
Sandals Resorts created the S.T.A.R. Awards in 2002 to recognize the top travel agencies selling Sandals, and to showcase the newest in resort product and on-island attractions. The 17thAnnual S.T.A.R. Awards celebrated the company's newest initiatives and innovations, including the latest updates at its flagship resort, Sandals Montego Bay, offering new luxurious rooms and amenities including its lobby and conference center, 5-star Global GourmetTMdining additions and new over-the-water concepts including Latitudes Overwater Bar and Over-the-Water Serenity Wedding Chapel. Travel agents also learned about the brands' newest Love Nest Butler Suites®, Luxury Private Transfers for club and butler level guests, the recently introduced Aisle to Isle destination wedding experience for brides and grooms.
Whether planning a destination wedding, honeymoon, romantic getaway or a family vacation Honeymoons, Inc. has all the latest information on features and amenities at Sandals and Beaches Resorts.
Here is the press information for the White Affair in Jamaica where Linda was chosen as one of the Top 50 Jamaica Travel Specialists for 2018.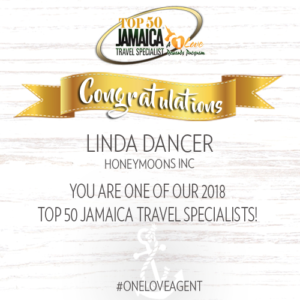 JAMAICA – After months and months of planning, the Jamaica Tourist Board (JTB) recognized the Top 50 travel sellers from the United States, Canada and the UK at the annual White Affair event December 13-16.
Agents input their bookings with the One Love Rewards Program and the best of the best earn a free trip to Jamaica at the end of the year.
In its seventh year, the White Affair is all about celebrating the travel agent. It continues to show that agents are a strong force in the travel industry.
The weekend began with a welcome cocktail reception and dinner followed by fun excursions around Jamaica before the big awards dinner on Saturday night.
"You earned your way here," Dawson told the agents at Thursday's Welcome Reception held at Excellence Oyster Bay's rooftop bar. The newest resort in Jamaica, Excellence Oyster Bay is simply stunning, and it's easy to see why it was this year's choice to be the host resort.
Located on a private peninsula and home to 315 suites with 15 different categories (eight belonging to the exclusive Excellence Club), a world-class spa and wellness center as well as nine high-quality restaurants, 24-hour room service plus 10 bars and lounges, Excellence Oyster Bay is an all-inclusive resort that truly lives up to its name.
The White Affair Reception and Awards Dinner took place Saturday night at the Falmouth Cruise Pier. All 50 agents were given awards, with a select few named "Most Improved" – a first for the White Affair. Even those who couldn't make the trip had their name and agency recognized during the award ceremony.
Key members of Jamaica's travel industry were in attendance as well. Minister of Tourism Edmund Bartlett and Director of Tourism Donovan White both gave speeches, each taking the time to give their appreciation and thanks to agents for all their hard work.
Congratulation Linda!!! Linda Dancer with Honeymoons, Inc. specializes in honeymoons, destination weddings & milestone wedding anniversaries. If you are planning your honeymoon or destination wedding, emai her at  linda@honeymoonsinc.comor phone 931-337-0770 and she will be happy to help you!