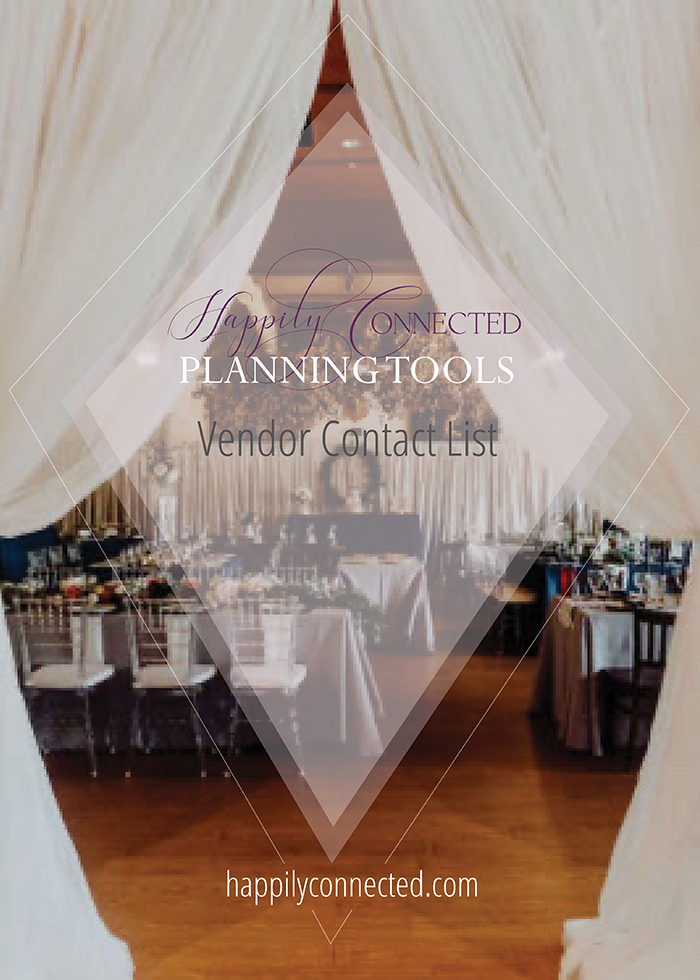 Having all of your vendor's info all in one place is a helpful tool during the planning process and on the day of your wedding. So, we created a Vendor Contact List with all of the info your wedding planner, family, wedding party and other vendors will need on your wedding day.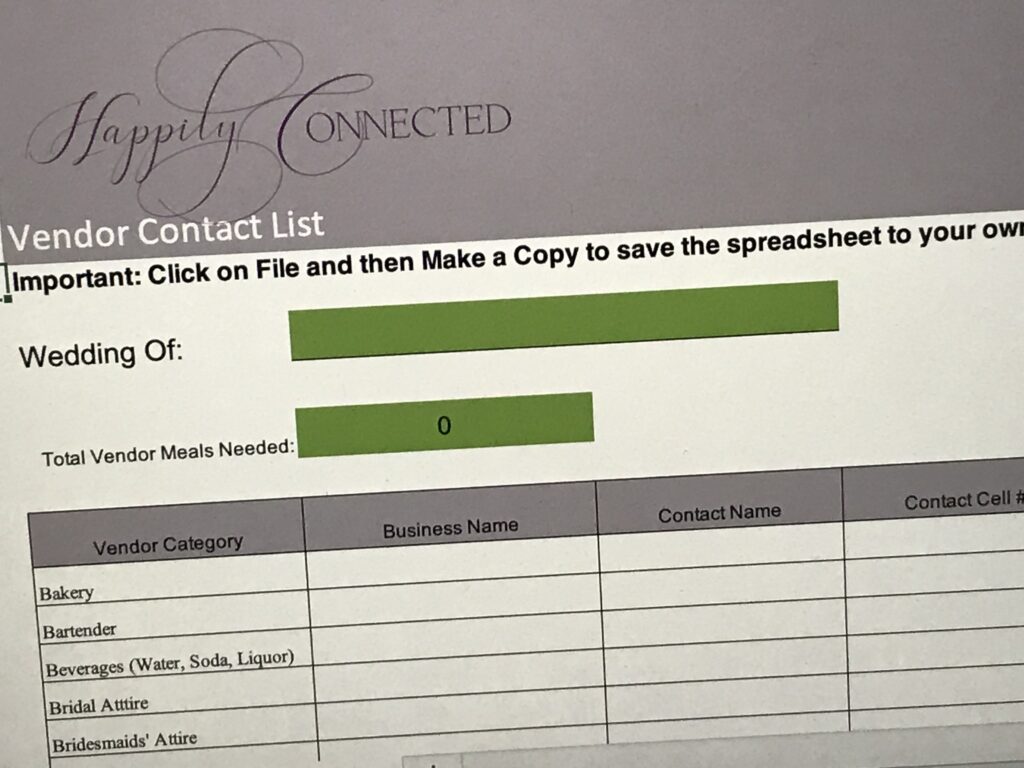 Click here to download the free Vendor Contact List. It's important you are signed into your own Google account to download. Next click on the file and then make a copy to save the spreadsheet to your own account.
The spreadsheet is designed to be comprehensive so you can customize it to fit your wedding. So, if there's a vendor category listed that you are not using, delete it or hide it. If you are using someone not listed, add them. The vendor category has been sorted alphabetically but feel free to organize them however you would like.
Here is an overview on how the spreadsheet works.
ENTER you and your Fiancé's First & Last Names in Cell B6.
Add the Vendor Name for each venue in Column B.
Add the Contact Name in Colunm C. This should be the person who will be the contact the day of your wedding.
Add the Contact's Cell # in Colunmn D. This should be the cell number they will be using the day of your wedding.
Add the Contact's Email in Column E.
Add Info about the Contract in Column F. (For Example: 8 Hours with 2 Photographers)
Add what time the vendor will Arrive at your wedding in Column G
In Column H list whether the vendor will need a meal and in Column I how many meals are needed for each vendor. The total vendor meals will be in Cell B8.
In Column J indicate the total amount due to the vendor.
In Column K indicate payments that have been made to the vendor.
In Column L indicate the date of the next payment.
In Column M indicate when the vendor has been paid in full.
Add the vendor's website in Column N
Column's O & P are for the vendors Instagram and Facebook Names. These will be used when you and other vendors tag the vendors when posting photos of your beautiful wedding.
The Vendor Contact List is part of our Planning Tools Series. You can find lots of wedding planning resources to help you with your wedding planning over at https://happilyconnected.com/category/wedding-planning-tools/.
Feel free to email us at info@happilyconnected.com if you have any questions. Please put Planning Tools in the subject line to help prevent your email from going in our spam folder.
Photo Credit: Wilde Company