Picking a venue is one of the first and hardest wedding planning decisions. Not only does it set the tone for your theme and atmosphere but will also be the background in many of your photos. To help make the task a little easier, we have put together a list of things to consider when choosing the right venue for you and your fiancé.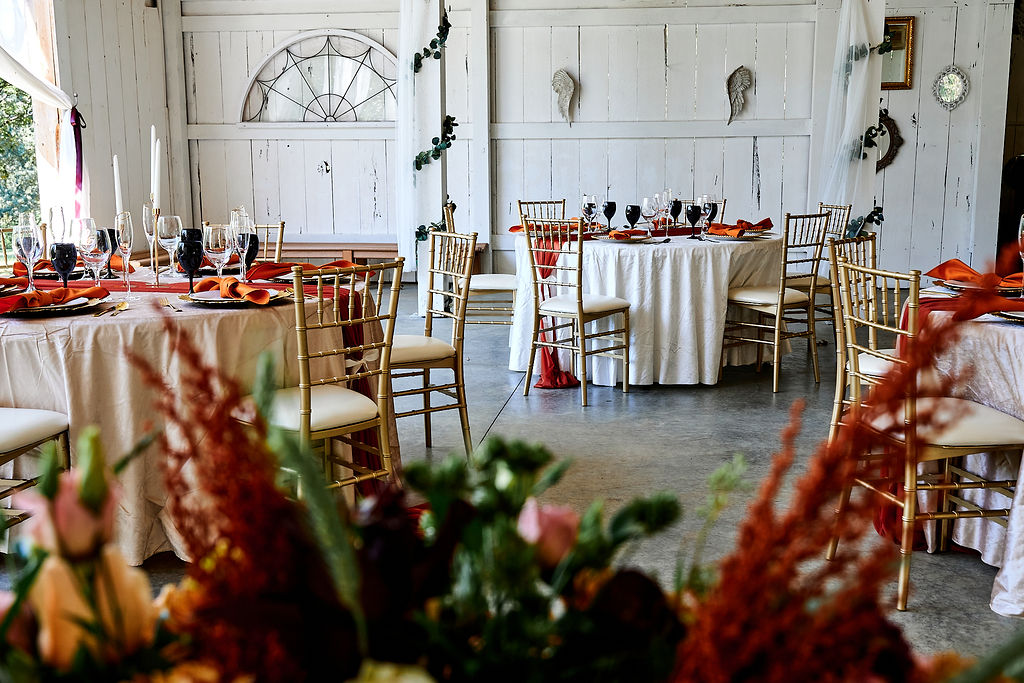 Talk to a Planner First
If you want to work with a wedding planner, book her before you choose your venue. Planners can help find the best fit for your vision, guest count and budget. They are more familiar with how to layout a space and the time and items needed to transform it. Often times, planners wish they could turn back time and show new clients a venue which would have been a much better fit for them and their style and budget.
Couple's Style, Personality & Vision
Follow your hearts! Your wedding should reflect you as a couple. Let who you are as a couple shine through. If you are both foodies, look into a place where you can express your love for food. However, if you prefer nature, you may want to look into an outdoor venue like a park or a farm. Need help with inspiration, check out our blog for help from Nashville area vendors.
Set & Remember Your Budget

Set your total budget and then break it down by category and prioritize funds for vendors which are most important to you as a couple. If you aren't sure how much to realistically budget for each category, consult a local planner who can help with information more specific to your region.
Create Your Guest List

Yes, before you start looking at venues! Your guest list will determine what size of a venue you will need. It also helps to know if you have any guests who have special needs like handicap accessibility, etc. The guest list also helps in creating your budget as some of the costs are dependent on the number of people you are inviting.
Think About What is Included
Compare Apples to Apples! If you are looking at some venues who are full-service and others where you can bring in your own vendors and décor, do your homework and get pricing for the items not included so you can compare equally. And remember often times included rentals are typically more basic (white linens, standard flatware, banquet chairs, etc.), so you may still end up paying more to rent items that fit your vision better which will add to the venue budget.  And if you're working with a venue that has in-house catering with a food and beverage minimum, be sure to include the tax and gratuity/service charges in your calculations. For example, in Nashville sales tax is 9.25% and the gratuity/service charge can range between 18-22% gratuity/service charge depending on the venue, so I recommend adding 30-32% on to the food and beverage minimum to account for tax and an 18-22% gratuity/service charge. The tax and other fees take a $10,000 minimum up to $13,000!
Ask Questions
When shopping for a venue, it's important to know what is included in each rental fee and what restrictions each has. Be sure to ask if there are any rentals – chairs, tables, tents or decor included. Ask how many hours you have access to the property and what time you and your vendors can arrive and what time you will need to leave the facility. Also, is there an elevator, a kitchen for the caterer and a place for you and your groom to get ready.  What part of the property will you have access to? Is there power, water, and parking available? Is there a list of vendors you are required to use, or can you use who you wish? Do you have to use their food and beverage service? Do they require a "Day-of" coordinator? Are you allowed to have candles or sparklers? Each venue is different so make sure to ask questions before you sign on the dotted line. Not sure what all to ask? We compiled a comprehensive list of 101 questions to ask.  Download your Free copy of 101 Questions to Ask Your Venue. 
Talk about Insurance
Most venues require couples have an insurance policy for day of. Wedsafe.com  is an online event insurance company that provides such policies. And many venues also require that vendors are licensed and insured.
Time of Year
Regardless of whether you dream of an indoor ceremony or an outdoor one, all seasons have their ups and downs to consider. Mother Nature isn't always cooperative and here in the South, the month of May could be 50 degrees and November 100 so ask your potential venue about air conditioning, fans and heaters.
Rain Plan
Planning an outdoor wedding, know what Plan B is and make sure you love it as much as Plan A! Plan B isn't always as simple as just moving everything indoors. Some venues do not have the same space indoors as they do out. They also may not have the staff to flip the room from ceremony to reception which would require your guests to sit at tables instead of in aisles.
We hope these tips help with this hard decision and help ease some of the stress that goes with deciding. Remember, planning your wedding should be fun and as stress-free as possible. Don't forget the most important part, you love each other and you're getting married!
Photo Credit: Wilde Company