You said Yes! Now there's a million things to do to plan the day of your dreams! Wedding planning can be stressful. To help take some of the stress away, try breaking down the checklist and doing a certain number of tasks per week. By doing this, it makes the list itself seem a little smaller and less daunting. Also delegate, ask your family and bridal party to help with some of the less important tasks such as contacting vendors and venues to check on availability and pricing. This helps save you time and allows you to do other more important things. Once you have the information, you can contact the ones you are most interested in.  
One of the most important tasks is remember to take time for each other during the planning process. At least once a week, take some time for you and your fiancé and do something fun together that does not involve wedding planning or discussing the wedding. Go to a movie, out to dinner, or on a hike but make sure to make time to reconnect.
Always remember the most important thing at the end of the day is you will be married! We love this quote from Audrey Hepburn. "The best thing to hold onto in life is each other"!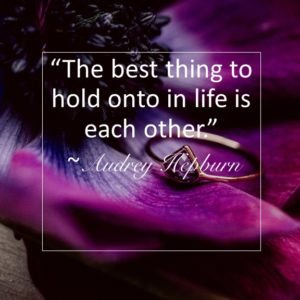 Photo Credit: Wilde Company 
Invitation: Fanciful Ink