Considering a destination wedding but can't bear the thought of not including your fur-baby? No problem we asked Linda Dancer with Honeymoons, Inc. to share a few of her favorite pet friendly destination wedding resorts.  These resorts welcome you to bring your furry ring bearer with you to celebrate your big day. Linda works closely with the wedding teams at these resorts to make sure these arrangements are included in the planning process.
Mountain Lake Lodge, Pembroke, VA
Mountain Lake Lodge known as the the film location for "Dirty Dancing". This resort is also an an award winning destination wedding resort nestled in the middle of a 2,600 acre nature preserve in the Blue Ridge Mountains of Virginia. Your wedding guests will find a variety of accommodations from rustic cabins, cottages or a room in the historic Main Stone Lodge. So many activities for your wedding guests – outdoor adventure center with  zip lines and obstacle courses (great for wedding group activities), Skeet Shoot-Clays at the Overlook , hiking, movie tour starting from the exact spot where Max Kellerman greeted the Houseman family at the beginning of the movie, gift shop, movie museum – and great news – the lake has began to fill up again after mysteriously draining a few years ago. Gourmet Farm to Table dining in Harvest, gourmet coffee in Mary's Market & Cafe or sample Virginia's local craft beer in Stony Creek Tavern – Lyndsi Hale- director of sales & catering and the rest of the team at Mountain Lake Lodge can attend to every detail of your dream destination wedding.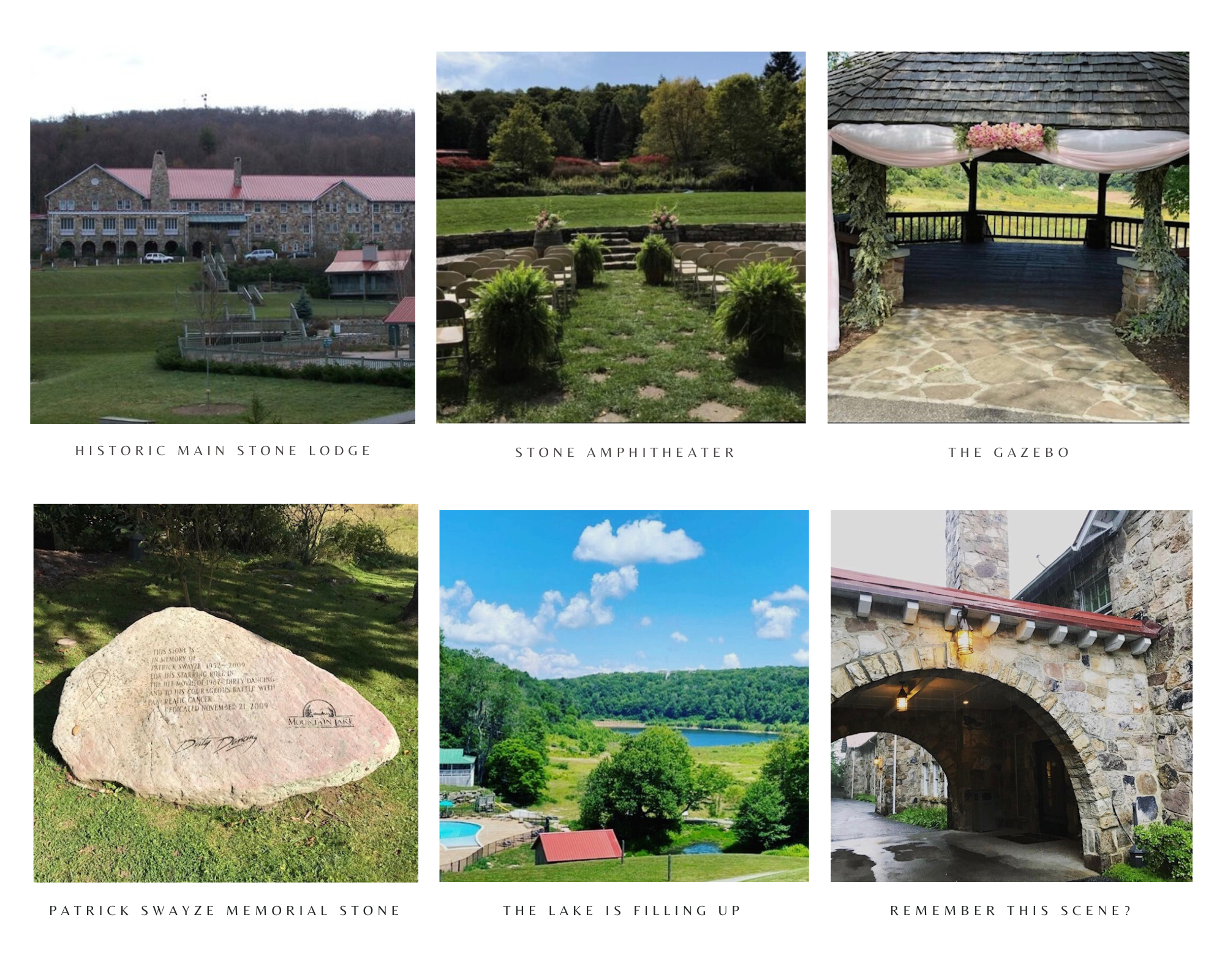 Dreams Resorts, Mexico and the Caribbean
Dreams Resorts is a luxury all inclusive resort for everyone – welcomes you to bring your fur-baby but do keep in mind that when you travel outside the USA with your fur-baby, that you will have to get special veterinarian forms filled out to take with you, also with one client recently even though she had done the proper paperwork, once she cleared customs and immigration she had to wait for about an hour for a local vet to come to the airport and sign off on the forms she had done in advance, so know that taking your fur-baby outside the USA  will require some extra work on your part and patience upon arrival to your destination airport, in addition, each airline is going to have additional restrictions per TSA guidelines and fees involved when traveling with pets. Dreams' dog policy is for dogs 22 pounds and under, only one dog per room, specific room categories and a nightly fee applies. Fur-baby amenities include food, water bowls, a Dreams Resorts themed dog bed, toys and more.**Dogs are only allowed in designated dog area(s) on the hotel grounds, not in the pool and other public areas, select restaurants allow dogs on outside terrace only and will supply dog bowls for food and water. Other Criteria is required to bring your fur-baby with you to Dreams Resorts –  As an AM Resorts Master Agent and Wedding Planner, Linda assists her brides and grooms to make sure all the criteria is met for their fur-baby.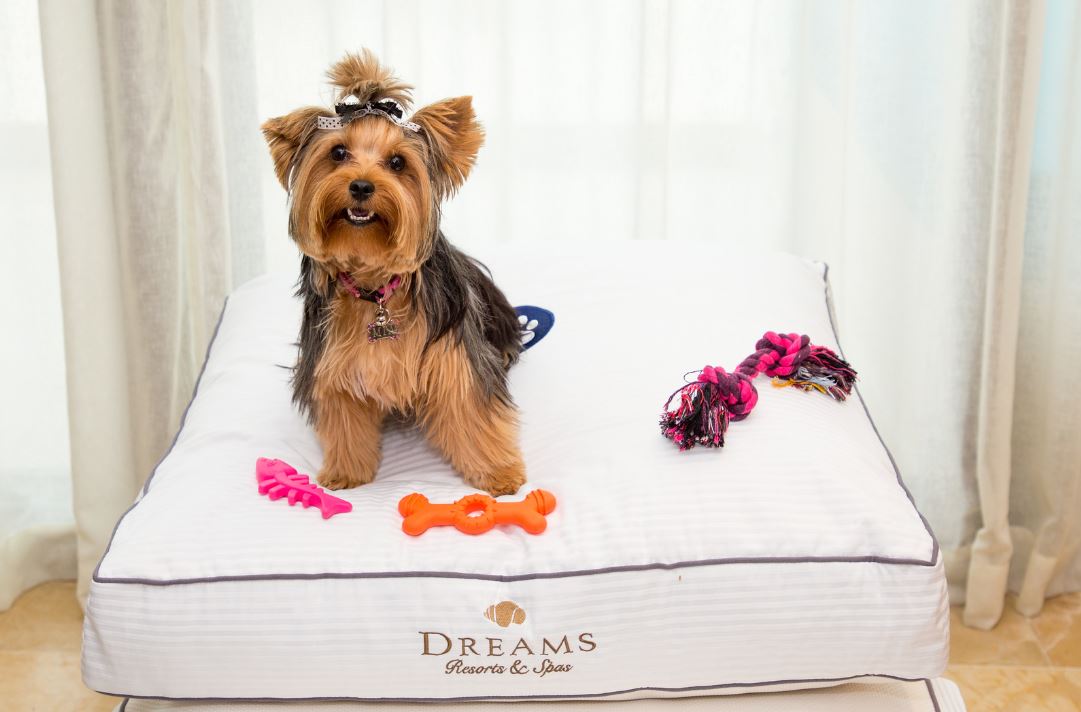 Ritz-Carlton, Bachelor Gulch, Colorado
Nestled within Beaver Creek Mountain, this luxury resort is a perfect backdrop for your destination wedding. This resort is a perfect location year round, with seasonal activities including skiing, golf, spa (including a renowned rock-lined grotto) just to name a few. Wedding venues include historic cabins from the gulch's original settlers, lawns with sweeping views of the valley, mountainside terrace with views of the surrounding National Forrest – wedding team to assist you with every detail of your Colorado Mountain Wedding experience.  * Photo Credit Katie Shay.
Postcard Inn, Islamorada, Florida
If ever a name fit , would be for this resort – perfect tropical beach setting, vintage coastal feel, modern colorful room decor, pool, beach cabanas. Locally roasted coffee, homemade donuts, beach bar & snack shack, classic seafood at Stamps Lobby Bar and Restaurant, cocktails at sunset-the Post Card Inn has it all – For my couples looking for an exotic beach destination wedding location, but can't get passports – this resort is perfect and offers so much for families (fur-baby included). *photo credit Andrea Hammet -area event manager.

Are you considering a destination wedding?  Contact Linda, she  would love the opportunity to assist you in confirming one of these pet friendly resorts for your and your wedding group.
Email her at Linda@honeymoonsinc.com or Call Direct at 931-337-0770.