If you are looking for the most secluded and romantic possible hotel for your honeymoon, then an overwater bungalow or water villa is the perfect choice. These beautiful hotel rooms are so popular with honeymoon couples that it's likely many of them would not exist if not for the newlyweds.
Almost all of these resorts are in the tropics, so they nearly guarantee perfect weather all year round, and they are all in stunning natural settings that will be impossible to forget, especially when combined with your romantic holiday. Choosing an overwater bungalow resort for your honeymoon might not be easy, however, but that's only because there are so many excellent options out there.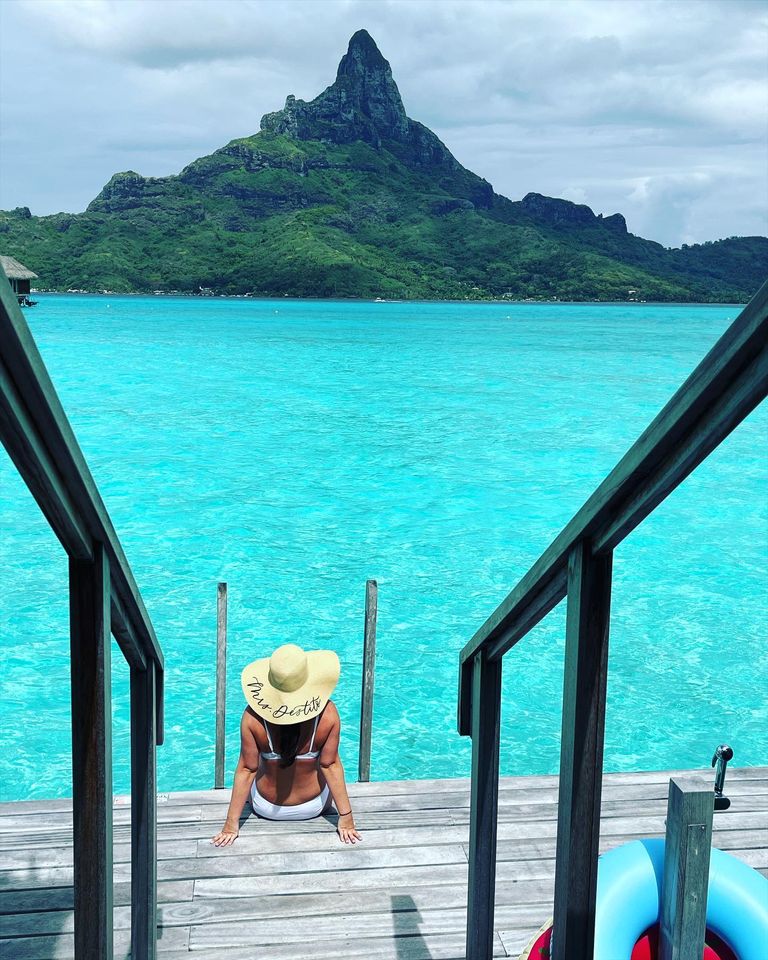 4 STEPS TO CHOOSING THE PERFECT OVERWATER BUNGALOW RESORT FOR YOUR HONEYMOON
1) DECIDE ON THE LOCATION
Being perfectly honest, the best overwater bungalow resorts in the world are in the 
South Pacific
, primarily on 
Bora Bora
 and 
Moorea
, and in the 
Maldives
, which is just southwest of India. If you are coming from the Americas then the South Pacific will be faster and cheaper to reach, and if you are coming from Europe then the Maldives is the better choice.
2) LARGE RESORT OR BOUTIQUE RESORT? 
With over 90 overwater bungalow resorts in the world, you'll have great variety in many ways, but one key consideration is if you'd rather stay in a larger resort (usually 100 to 300 total rooms, including mostly garden or beach rooms), or a boutique resort that might have far fewer rooms and possibly none on land at all.
The advantage to a larger resort is that they tend to be cheaper and they'll have more options for restaurants, bars, and daytime activities. The disadvantages are that they tend to be more popular with families and groups, which could hinder the romantic aspect for some people. However, it's worth noting that almost all of these resorts prohibit children under 12 or so from staying in the overwater rooms from a safety perspective, so the overwater wings of the hotels do tend to be nearly all adults, even if families are staying elsewhere in the resort.
The advantage to the boutique resorts is that they are generally filled with honeymoon couples and other romantic couples, so the atmosphere is more "adult" and classy.
The downside to a boutique resort is that many of them only have one or two restaurants, and a more limited number of daytime activities. The ones with fewer restaurants do tend to be high quality with varied menus, but still for some people the choices look a bit too familiar toward the end of the week.
3) ONE RESORT OR MULTIPLE RESORTS? 
Believe it or not, it's extremely popular for honeymoon couples to stay at two or even three different resorts during one holiday. This is especially true in the South Pacific, where each resort has dramatically different scenery from each other.
Many couples stay first at a resort on Tahiti or Moorea, which are the easiest two islands to reach, and then after a few days they move to a resort on Bora Bora or elsewhere in the South Pacific. Since getting to the area is a bit expensive and time consuming, it makes sense to experience more than just one place as the cost to get from one to the other is usually minimal.
In the Maldives the resort hopping tends to be less common, and since all the islands are perfectly flat the scenery doesn't change much from one to another. Still, many couples do prefer to spend part of their trip at a small boutique resort and the other part at a larger resort with more variety available
4) CALL ANN TO LOOK INTO HONEYMOON PACKAGES 
Since every one of these resorts is popular with honeymooners, nearly all of them have special "honeymoon packages" available. You can often save money by booking through a travel agent.
Once you choose the resort or resorts you are interested in, Ann can check for honeymoon specials. In some cases it's just a bottle of champagne and some other special amenities once you arrive, or in other cases it's an upgraded bungalow combined with a romantic dinner served on a secluded beach plus other extras.  Ann always has a special gift in her honeymoon couple's room upon arrival
Even if you don't buy a special honeymoon package, you'll usually receive some special treatment once you arrive and announce the reason for your visit. These resorts know that they get a lot of referral business from past guests, so they are highly motivated to make special guests feel like they are being treated even better than normal.
Ann's specialty is planning Destination Wedding, Honeymoons and Luxury Romance Travel.
To plan your special honeymoon, call Ann at 570-280-2816 or email her at ann@annbrownellstravel.com