One of the most fun trends in weddings right now is custom Snapchat filters! It's a great way to make things interactive for your social media obsessed guests, as well as a way to document your big day! These are also great for wedding related events such as wedding showers, bachelor/bachelorette parties, etc!
Filters vs Lenses
Snapchat actually allows you to create custom Filters or Lenses. The difference is a Filter will be applied after you have taken a photo. When a custom filter is applied all you have to do is take a photo, swipe right and you can apply the custom filter to your photo. Lenses are a little different in that you can see them while you are taking a selfie. The Lenses will come up when you click the little smiley face next to the circle button to take your photo. Both options are great for any wedding event!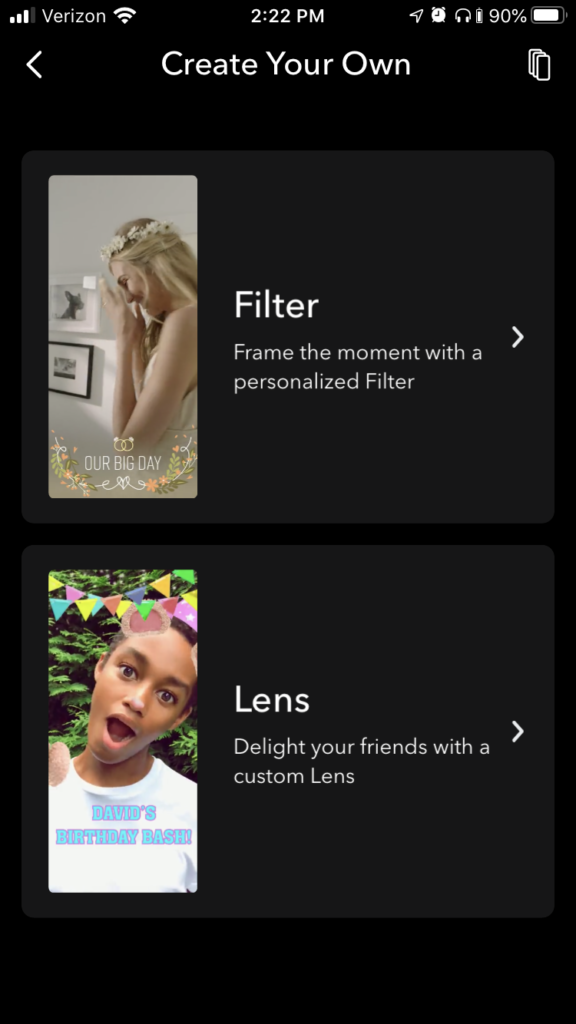 How To Create
You can create custom Filters or Lenses through the Snapchat app on your smartphone or when you go to 
www.snapchat.com/create
. Both are super easy!
On Your Smartphone
When you open the app click on your icon in the top left corner, then click the little gear in the top right to open "settings". Next you will scroll to about the middle of the "My Account" options and click Filters & Lenses. Once you get there you will have the option between a Filter or a Lens. Once you choose the option that you would like there are Occasions to choose from that will feature finished templates, all you have to do is add names, dates, sayings, etc to make it your own! It also allows you to change color schemes and fonts to customize even further!
Online
Visit 
snapchat.com/create
 and choose "Get Started". Then you can choose between Filter or Lens. Here you have the option to upload your own template or look through and edit their pre-made ones. They are also separated by Occasions to make it easy to find the perfect one for your wedding event! They made it really easy to change color schemes, edit or add text and you can even add a Bitmoji if you have one as well!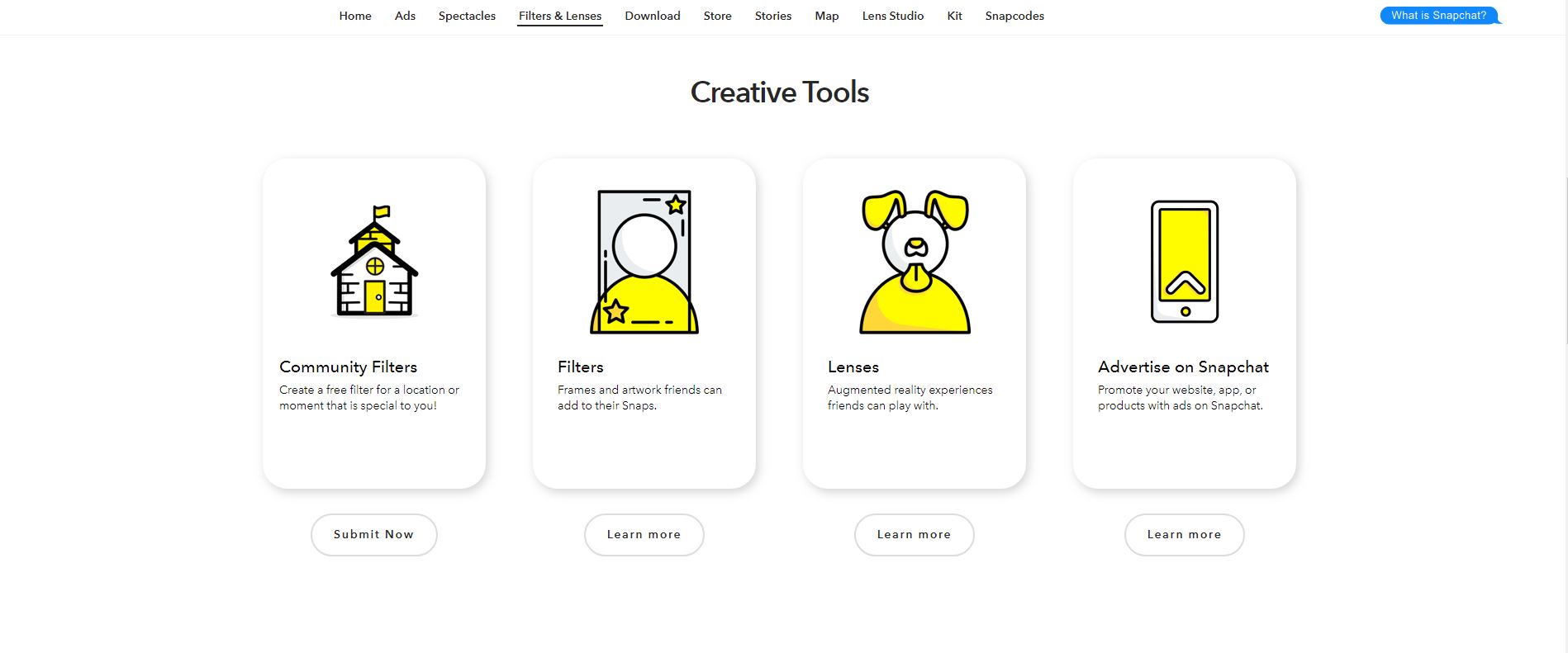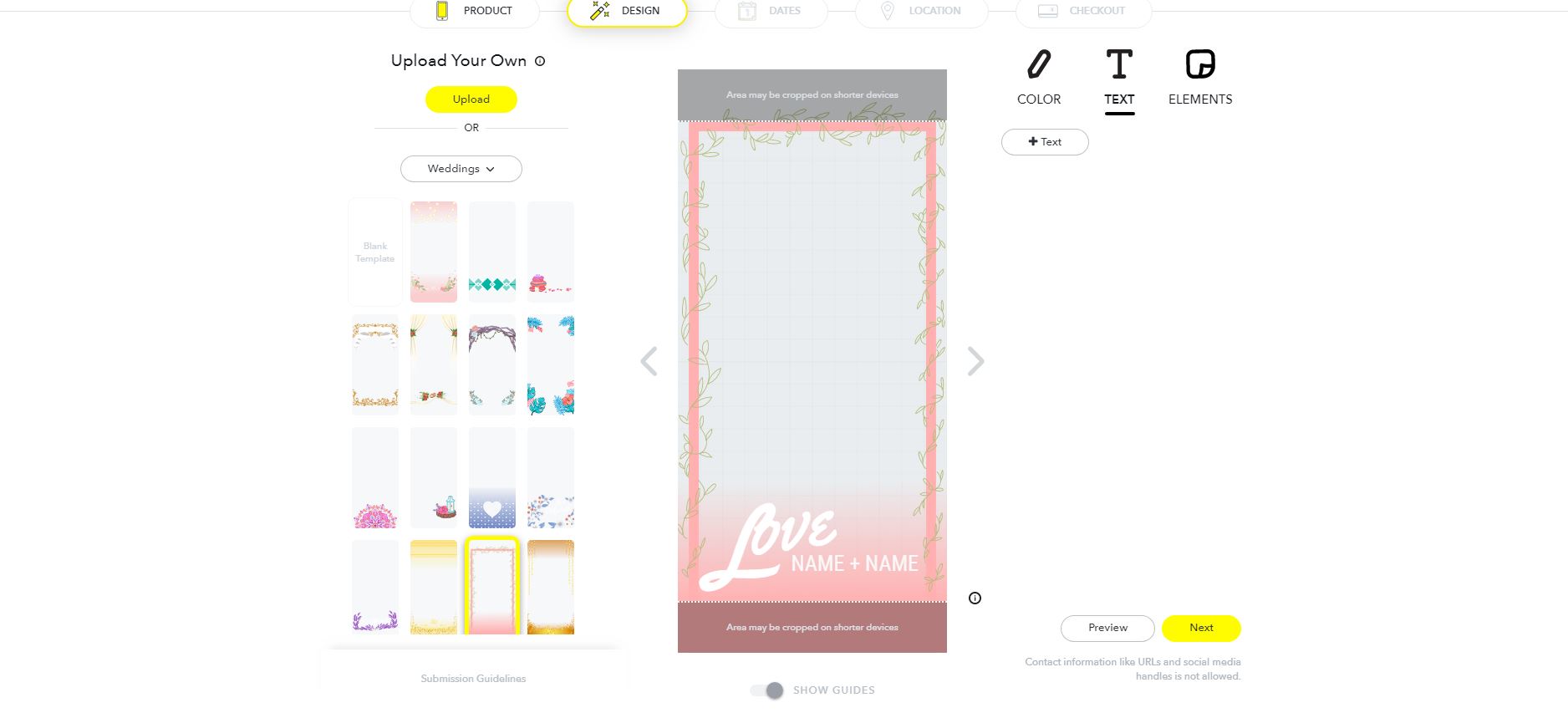 After you create your Filter or Lens you will have to choose the date/time and location that you want it to be active. You simple search the location of where the filter will be used and you can sort of draw the area you want. The larger the area, the more expensive, but if you are doing it for one small location it's very affordable.
Giving as a Gift
A custom Filter or Lens also makes a great surprise gift for a couple! You can create one on your own and share it with them on the big day! (Just make sure they haven't already made their own!)