Suspended in Time TN
is a flower and memorabilia preservation company that uses a revolutionary method to conserve floral arrangements. Lynn and June work with you to fulfill your specific needs and create encasements which will last for generations. Keep reading to learn more about these two awesome ladies and their business
Suspended in Time TN
.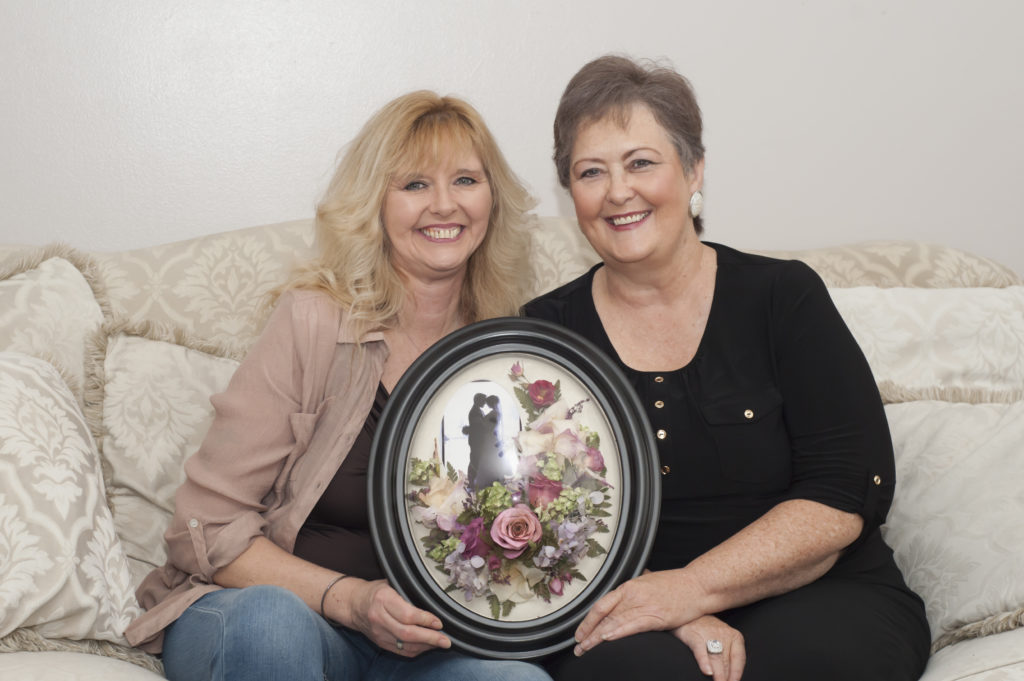 Tell us a little bit about you and how you got started!
Lynn:  I always wanted to have my own business, but life got in the way. My mother left me funds expressly to fulfill my dream.  I searched several years for the right fit and finally found Suspended In Time.  It fit the parameters I set plus allows me to use my artistic side in creating the beautiful arrangements. Plus, after praying on it, the Lord gave me the go-ahead.
Approximately 10 years ago my family and I started going to a new church in the neighborhood.  Before I get too friendly, my tendency is to observe others, talk to a chosen few and once I begin feeling comfortable, will start putting myself out there.  I like to plan things, events, parties and fund-raisers so will enlist others to serve on committees.  I kept seeing this tall blond lady, so full of energy and exuberance I really thought she was a bit strange so stayed away.  The church was planning an event and June came to a meeting to volunteer.  I found out later she had been ignored so she left, which upset me.  Next I saw her I engaged her in conversation, found out she wasn't "strange," just had a lot of energy needing a direction. I have a tendency to be serious, logical and sometimes droll.  June reminds me it's okay to have fun, be mischieveous and spontaneous. In the years I've known her, we've never had an argument, we talk it out before it gets too large of an issue.
I have shown June it's fun to travel, experience theater in different forms, to decorate her home in a style other than flea market, experience fine dining and the importance of education (not always formal).  We are constantly learning from each other.  Both our families support our friendship and business.  What I admire most about June is her love of God and her willingness to help others, including me!
This is why June was my first choice as a partner in Suspended in Time TN.  Our friendship continually grows, each of us teaching the other new things about ourselves and talents every day.  I can't imagine anyone else as a friend, church-sister or business partner.
June: Lynn asked me a year before we went to Utah shared info with me and asked if I wanted to go into business with her.  We went to Utah for 4 fun packed days of learning, doing and creating!  It was rough but amazing!
What makes Suspended in Time TN unique from other preservation companies?
Lynn:  SITTN uses a revolutionary and proprietary preservation method that allows the flowers to be preserved in a matter of days versus months with other types of preservation.  This helps the flowers keep their shape and color.  We are trained designers and have techniques to "awaken" drooping blooms and revitalize colors.  This means the client gets their encasement(s) back faster, e.g., months rather than a year.
June: I don't really know a lot about how other companies work. I was a hang the flower upside down kind of girl, but the way the blend consumes the flowers making it a beautiful delicate dry version of its self is just amazing!
What is your favorite part of working with couples?
Lynn: Most of the time we're working with only the bride or the bride's parents as they deliver the flowers while the couple is on their honeymoon.  We will preserve the flowers then when the couple returns, we'll meet with the bride and she'll make her decisions how to display her bouquet.  If the groom does come, he usually dutifully sits and agrees with his bride. 🙂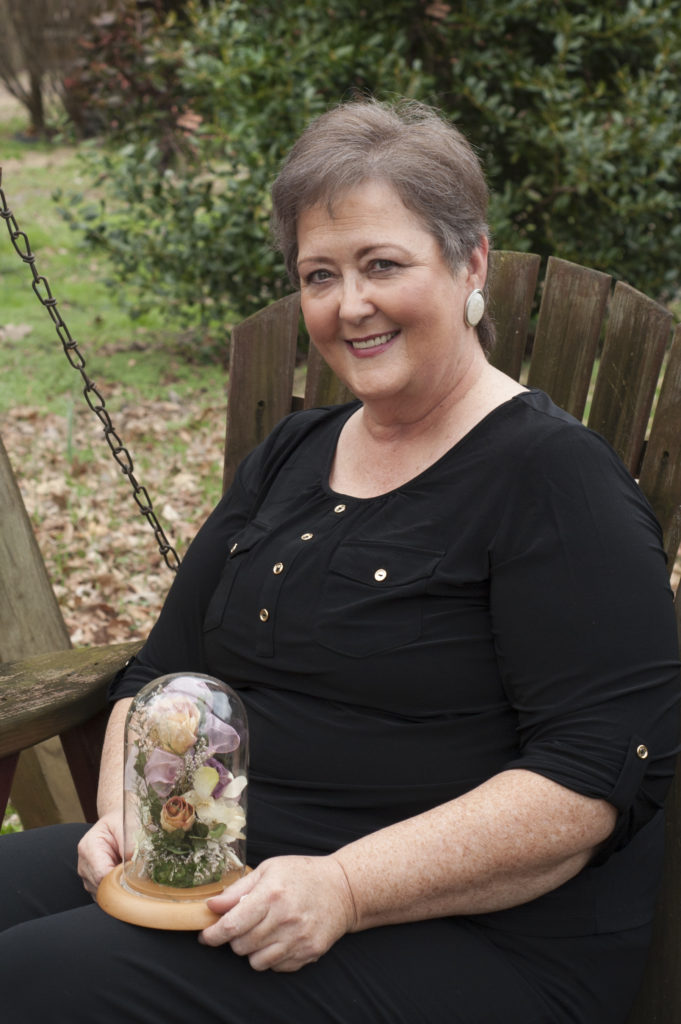 June: Most the time it's the bride we work with, but just being a part of that special day the excitement of helping them decide what they want and sometimes just teaching them and telling them what or how it should be because they are so excited.
One piece of advice for couples?
Lynn: Don't let preserving your flowers be a last-minute decision.  Meet with us before your wedding to make the decisions, then once the flowers are delivered, we can preserve them and work on the encasement right away instead of waiting till you return from the honeymoon.  This would help you get the arrangement back sooner.
June: Put Jesus 1st. Include each other in all major decisions, making them based on fact, not feelings.
Childhood career aspiration?
Lynn:  I wanted to be a veterinarian as a child, then as a young adult I started college in hopes of being a psychologist specializing in behavioral science. I'm fascinated by the cause and effect of human and animal behavior.  Military service, marriage and raising children caused delays and career changes.  Now is my time to fulfill my dream, with June's help!
June: I have always liked helping people.
Coffee, tea, wine or champagne?
Lynn:  Tea.  Coffee is too bitter for me.  Growing up one of my fondest memories is getting up early and sitting at the kitchen table with my Dad drinking different flavored teas.  Plus, my Mom always had a pitcher of brewed sweet tea on the kitchen counter for us (and I'm a yankee! :)).  Didn't know sweet tea was a southern thing till I moved here in 2000.  Being raised in St. Louis, I do indulge in a Budweiser now and then, but I cook with wine and drink a glass of Sangria once-in-a-while. I decided long ago if I don't like the taste, why pay so much for an alcoholic beverage?  My taste buds prefer sweet, not bitter or sour.
June: Coffee most of the time its warm in the winter, tea in the summer sometimes.  I really drink water most of the time. Not much on wine or champagne if there is a special reason sure.
Hidden talent?
Lynn: Not to be rude, but I prefer it stay hidden. 🙂
June: Well doing this is really one of my hidden talents. I have found that when I start with prayer the Holy spirit takes over and I have an amazing piece of art that fits the person's life. It's so cool!  have a few others but this was my big surprise!
Thinking about preserving your flowers or other items from your big day, Lynn and June with Suspended in Time TN can answer you questions and help you preserve them for years to come.