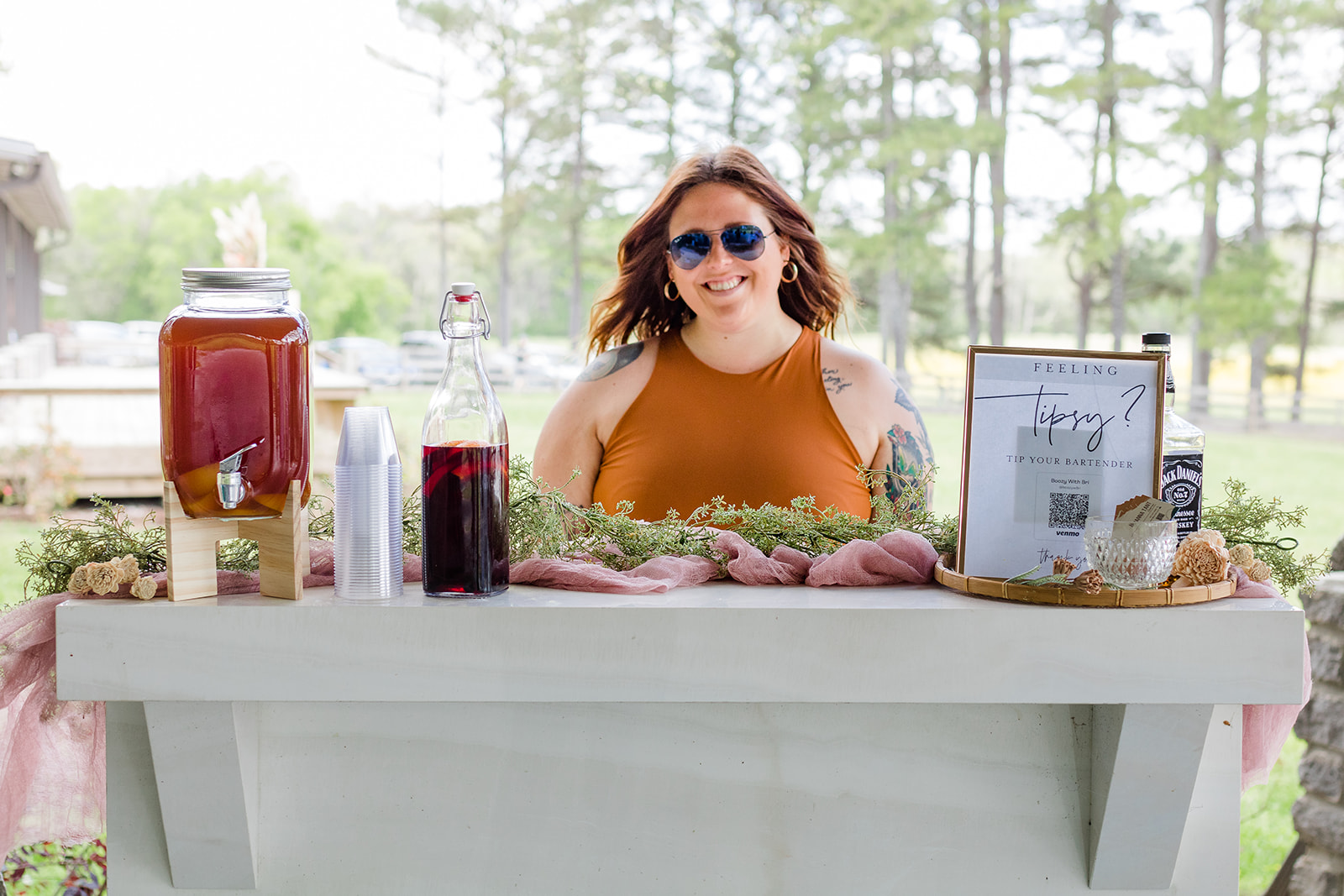 We are so excited to introduce the fabulous Boozy with Bri! She is a fun and knowledgeable bartender that is committed to bringing affordable and delicious bar service to your event!

Tell us a little bit about Boozy With Bri, and how you got started!
I started Boozy with Bri in February of 2022. I have been working weddings for friends and friends of friends for around 7 years, and I was thinking one day like "you know what.. I'm really good at this and love doing it. I should start my own business so I can make more money and do it more" And that's exactly what I did and I am so grateful that I took the step!!

What makes your business unique?
When i first started i was pricing around other local bartenders, and it is insane to me that people slap the word wedding on something, and it makes the price go up $400. I wanted to make sure I was still affordable to people. I don't like the idea of people spending so much money for me to do my job that I love doing!!!! So I think what makes me unique is truly just trying to be affordable for people and work with budgets!
What is your favorite part of working with couples?
I love working with different couples and seeing how every relationship is so different from the next. I LOVE meeting new people and interacting with the guest at events.

One piece of advice for couples? 
My advice for couples, when it comes to wedding planning, do what YOU WANT!!!!! this is YOUR day! DO NOT settle on having something just because you think everyone else will like it, when in reality you hate it. this is your day, and YOUR money so spend it with things you like!!!!
Childhood career aspiration?
Growing up I knew I wanted to work with kids. In highschool I took an early childhood development class and kind of started thinking that I didn't think I wanted to teach, but I wanted to help kids. I studied social work, and when I did an internship I didn't like the feeling of sitting at a desk for my job and that I am too much of a people person to do that. I have worked in hospitality since I was 16, and loved being stressed and working under pressure. I am studying Surgical Tech now, but bartending is where my heart is 😉 

Coffee, wine or…? And why?
I love coffee and wine… it's hard to choose between the two… so I am going to say, depending on the time of day, start with coffee then move to a sangria or mimosa. LOL

Hidden talent?
I literally have no hidden talents.. If I do have one, it's still hiding.