Today's Monday Motivation is near and dear to my heart – hiring a wedding professional! Weddings can be expensive but not hiring a professional can be even more expensive and often a disaster. Which brings us to today's quote from Red Adair –" If you thinks it's expensive to hire a professional, wait until you hire an amateur!"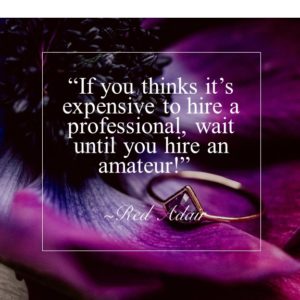 Red Adair was an American oil well firefighter who pioneered the highly specialized profession of extinguishing and capping oil well blowouts. Adair and his team are probably best known for extinguishing the oil well fires set by Saddam Hussein in Kuwait during the Gulf War in 1991. What does this have to do with your wedding you might ask. Regardless of what job you  need done, it's always best to hire someone that is an expert in their field.
As a former wedding planner,  I couldn't agree more and have so many personal examples. The old adage you get what you pay for is so true! A few years back, one of my couples had an uncle who did photography. Unfortunately, he had never shot a wedding and missed so many important pictures including the bride walking down the stairs to see the groom. The bride told me later they wished they had chosen a professional wedding photographer.
In my experience having a friend or family member do a wedding professional's job almost never works out unless they are a professional in their field who is truly your friend. Besides bad photos, here are a few reasons why you should hire a professional instead of your friend.
They're experienced. They're accustomed to the pressures of a wedding and are prepared for just about every situation.
They work for you. A professional works for you and will do what you ask. A friend or relative is also a guest and may neglect their "job" because they are busy helping you celebrate.
They have better equipment(including backup gear) and are expert at using it. Uncle Tom may have a great camera but he may only know one setting – "autofocus."
They give you peace of mind. Which is Priceless!
Regardless of who you decide to hire, here are some important things to know.
Find out about their experience. Find out how long they have been focusing on weddings and how many they do in a year. Check out their portfolio and client reviews.
Ask for references and talk to some of their recent clients. It can be extremely helpful to contact those who had weddings similar to yours.
Check their credentials. Make sure they are licensed and insured.
Follow your instincts. Being comfortable with your vendors is very important especially those you will be spending a lot of time with. They might be highly recommended, but if you don't click with them, they are not the right fit for you.
Get it in writing. To avoid any misunderstanding and to know exactly what the vendor is providing be sure to get a contract. Then read the contract carefully before you sign on the dotted line.
Your wedding day only happens once and is probably not the time to cut corners on hiring a professional. No sure where to start, check out some of our amazing professionals who can make your wedding day amazing! Regardless of who you decide to hire for your big day, do your homework so you make an informed decision. We would love to hear from you on whether you hired a wedding professional or a friend and what experience you had?
Featured Photo Credit: Twila's Photography
Quote Photo Credit: Wilde Company