Finally! It's your wedding morning. The room smells like fresh coffee and sweet pastries, the morning light is pouring in from the windows, and the room is filled with positive, happy energy. As you look around, you are surrounded by exactly who you want to be there with you on this special morning — a sister, close friends, or maybe even your partner. It's almost time for the beginning of your next chapter.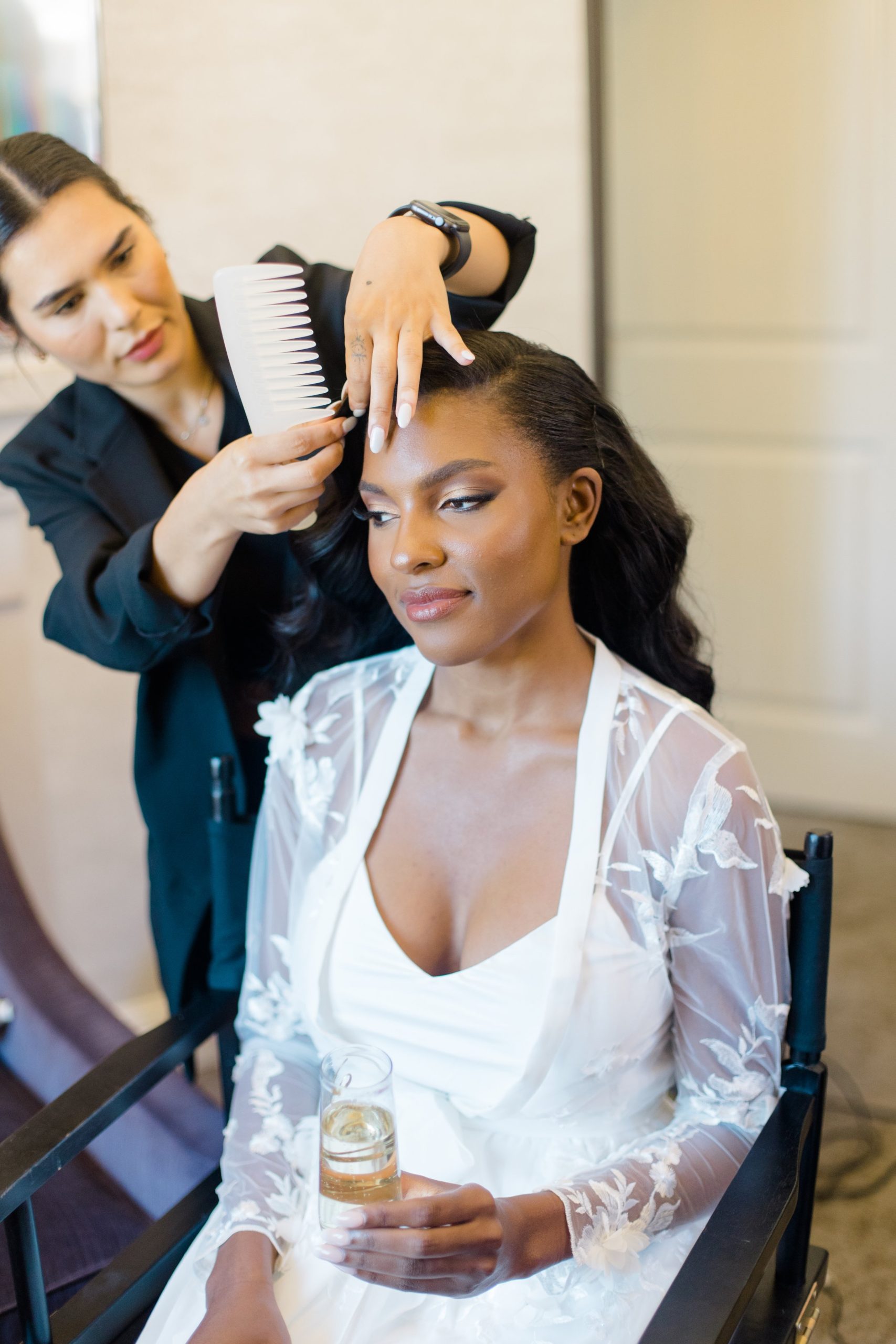 As a wedding coordinator, I've seen many "getting ready" rooms, scenarios, and timelines. Even in the most organized scenarios, there are always a lot of moving pieces the morning of a wedding, so it's best to plan ahead as much as possible. Keep reading for my top tips to create a stress-free wedding morning experience.
For my wedding journey, I used Anomalie Beauty Agency (ABA), which is a nationwide on-location hair and makeup team of experienced, licensed beauty professionals. Hair and makeup are such an important part of the wedding morning, and I wanted to be sure we were working with the best people to make our day go smoothly. From the very beginning, it was so helpful to consolidate both beauty services with one vendor. They have team members across the US, which made it so easy to book my favorite Chicago and LA vendors that work with Anomalie Beauty Agency for our destination wedding in Paso Robles. I would highly recommend them, but as always, do your research and determine what will work best for your big day! Now, let's get into those tips:
Glam Takes Time & Space
The average hair and makeup artist will allot 30-45 min for services for bridesmaids and family, and about 45 min – 1 hour for the bride. Even if your bridal party is getting simple styles, picture-perfect glam takes time. Trust your hair and makeup vendor when they tell you the start time, even if it feels early! As I mentioned, I went with Anomalie Beauty Agency for my wedding hair and makeup services. They built out a very detailed schedule to ensure that all 10 bridesmaids, as well as our mothers, grandmother, and myself would have ample time to be completed! Their team was amazing and actually finished us all about one hour EARLY, which gave us plenty of breathing room for photos.
Reserve a room with enough space so that everyone feels comfortable. For my wedding, we used an indoor space for the hair and makeup services, and used the outside balcony for a lounge space, food, and refreshments. Determine who will be accompanying you on your wedding morning, whether they are getting glam or not. This can include flower girls, mothers, or other close family members. If you determine that you might have tight quarters in your hotel or resort suite, be sure to book a "lounge room" staged nearby so your vendors and bridal party can spread out. You can reserve a boardroom, or even borrow one of the bridesmaid's hotel rooms for the morning.
Pro Party Tip: If you're gifting your bridesmaids robes or PJs for getting ready, take the items to a trusted local cleaners to be steamed so they are ready for photos. I did this so it was one less thing my bridesmaids had to do on wedding morning. It was only a couple of dollars per garment! If you can't drop the items off to a cleaner for steaming, then be sure to gift the items the night before so your bridesmaids can steam them with a personal handheld steamer before arriving to the getting ready suite.
2. Delegate refreshments & decor
If you would like to decorate your bridal suite (think: flowers, balloons, or wall decor), ensure that this is done through a vendor or your bridesmaids so it's one less thing you (as the bride) has to worry about. If you're reading this a future maid of honor or bridesmaid, opt for a private group chat with the other members of the bridal party to set up a fun surprise for your bride bestie!
For refreshments, order from your hotel or resort, or even ask a family member to supply the spread for you and your bridal party. There may be a shift in the glam schedule or unexpected things that occur on wedding morning, so you want to ensure the person in charge of food is not in your bridal party.
3. Choose your hair & makeup vendor wisely
If you have a very specific look you are going for, be sure to have a hair and makeup trial well in advance and be honest with your artist. Many artists are very accommodating because they want you to feel and look your best on your big day. I chose Hannah Elisabeth Beauty as my wedding day hair and makeup team because I knew that their team members are always so professional and very experienced. I had a few inspiration photos for my makeup and light direction for hair, but I truly trusted Selina and Layla of ABA to work their magic and do what felt best on that day. Hair and makeup really is an art, and it's important to chose vendors who match your aesthetic and caliber of quality. It's also important that your team feels comfortable working with various skin tones, age ranges of skin textures, hair types, and hair lengths. Do your research and don't be afraid to ask questions. If your vendor is offended by any question you ask, they may not be the right vendor for you. I felt 100% in good hands with the ABA team, not only for myself, but also for my bridesmaids, Bobe, and the mothers.
4. Prepare for your 'vendor invasion'
When you are about halfway through with your hair and makeup schedule, your vendors will start to invade! All jokes aside — it's true! 🙂 Your photographer and videographer will start to come in to photograph your special wedding details. Your venue coordinator may come in with questions or updates about the space if you are onsite at a resort or hotel. Your florist will start to drop off personal flowers. Your wedding coordinator will arrive to start coordinating the detailed movements of your day. Not to mention, hair and makeup are still onsite finishing your glam touch ups. Phew! That's a lot of people, but they are all here to make sure your day goes smoothly. Here's what you can do to help minimize questions and shuffle on the morning of your wedding.
Prep any items your various vendors might need ahead of time. For hair and makeup, arrive with clean hair and clean skin, and be sure to place any hair jewelry in an accessible spot. For your media team, place all items that you want photographed in small box or bag (think: special jewelry, cuff links for the guys, perfume, invitation suite, rings) and set it close to the door. It's helpful to clear a space for your florist to place the box of flowers whenever they arrive. Finally, for your wedding coordinator, have a box of any decor or wedding items you need them to set up pre-packaged and labeled clearly. Set this by the door as well so it's easy to find when they come in. If you can start your day by setting aside these important items, there will be fewer questions that you need to think about during your wedding morning glam time with your bridal party!
5. Plan ahead for glam at every wedding event!
Professional makeup looks aren't just for your wedding day! If you're having a wedding weekend of events or even a special rehearsal dinner, plan ahead to book professional hair and makeup. All of your friends and family will want to take photos, and it's nice added touch to have lasting glam that will keep you feeling flawless as the bride no matter what the occasion is or photo angle 😉 I opted in for glam with Anomalie Beauty Agency at my rehearsal dinner, and it was a really fun way to do a more playful hairstyle and fun makeup look than what I was planning to do for the wedding day. If you like getting glammed up, I highly suggest building this into your budget from the beginning, because I really think it's worth it especially if you've booked professional photo/video for the occasion.
This blog was written by wedding coordinator Arika. View full blog here.