Looking for a great DJ and MC for your event? Check out Music Tree Entertainment! Jon Boyce is the man behind the music and owner of Music Tree Entertainment! Not only is Jon a great DJ and MC, he's also a great Conga Line lead and will get your guests moving their feet to the music! We enjoyed interviewing Jon for our Vendor Spotlight and getting to know more about him and Music Tree Entertainment. Read all about how he got started and what he enjoys most about working with couples for their weddings and receptions!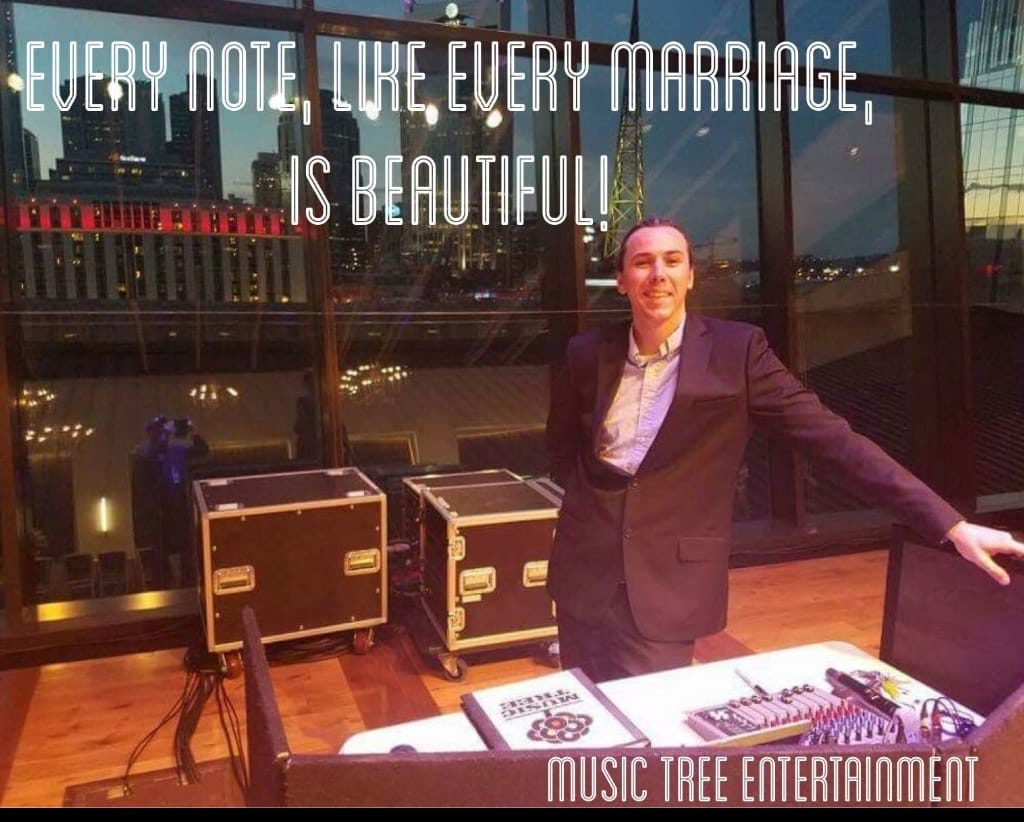 Tell us a little bit about you, and how you got started!
That is hard to answer. I ran my first sound mixer at the age of 13 for my church and knew right away I wanted to do something like that. Fast-forward 7 or 8 years and after broadcasting school I was able to start working under a Local DJ and after about a year branched out on my own.
What services do you offer and/or what do you specialize in?
I provide all necessary music for the Ceremony and Reception along with all the equipment needed for the music and microphones. Helping couples put a timeline together and keeping everyone informed of the timeline so the day moves smoothly is something I love. I also provide dance lighting.
How did you get started in weddings? 
While I was in broadcasting school I was working at a Country Club and bar-tended a Wedding that had a DJ/MC and just fell in love about the idea of being a part of people's weddings! You get to be a part of someone's happiest day, who would not want to be a part of that!
What makes your business unique?
I network with many DJ's but I am the only one that represents my business. So when you call me, book me, and invite me to your wedding, guess what I'm the one that shows up! I will not "outsource" you to another DJ. Simply put if I am booked I do not take another Wedding. I will gladly give you contact information for people that I know do a good job but I do not try to make any money off of you if I am not the one there.
What is your favorite part of working with couples?
Every Wedding and every couple is unique. Every time I sit down with a couple I get a chance to hear about their relationship and their vision for the happiest day of their lives. I am also always introduced to at least 1 new song. There is so much good music out there it is impossible for 1 person to hear it all, so discovering new music thru my couples is a lot of fun which means a lot of music I play I got from a previous couple. So in a sense each wedding I DJ/MC will have a little bit of personality from previous couples.
One piece of advice for couples?
It goes by so fast! Take small moments during the day to absorb what is going on. Stand at the alter a little longer before you get started with the ceremony, wait a few extra seconds after your name is called into the reception, have a private dinner, just try to find a few seconds here and there to "be in the moment".
Childhood career aspiration? 
Radio DJ! Since I was very young. I actually have a newspaper article about me from High School where I stated I could not think of a better job than listing to Music all day.
Coffee, tea, wine/cocktail? 
I drink way to much sweet tea! And when it comes time Makers Mark and 7 please!
Hidden talent? 
Not so much of a hidden talent but maybe a lost talent. I played College basketball and was a pretty good shooter!