It's time for another Friday Faves and here's what Kim with paperkuts Studio shared with us!
When Susan asked me for a 'Friday Fav', my first thought was the Home Hot Fudge Cake my Mom and I made. We actually had our first one on that previous Friday and it was yum yum yum!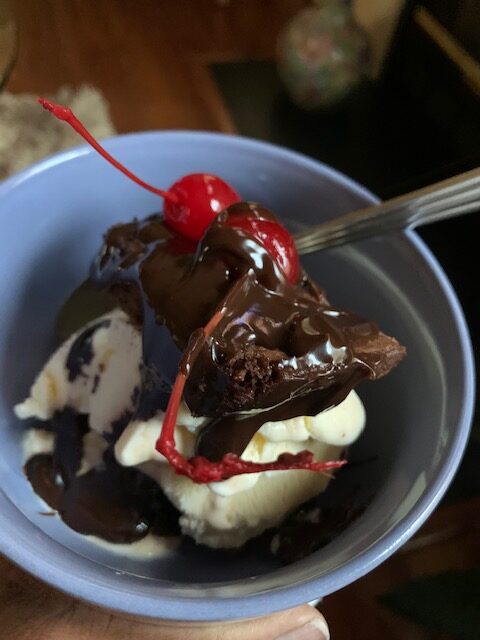 Having a small business most often means you never have the opportunity to push the off button. If you're like me, I'm constantly thinking of something that I need to/should/haven't done.  So, when I am vegging on the couch, those thoughts make me feel guilty. There is always something we SHOULD be doing, but I really value time with the faces I love. That truly plays into my mantra for paperKuts studio, which is PEACE*LOVE*PAPER. Yes, I absolutely love all things paper, but taking a break is so okay.
One of my other loves is the Hot Fudge Cake from Shoney's. I made some box brownies and my Mom had another one of my loves, Blue Bell Homemade Vanilla Ice Cream…yes! I then decided we needed fudge, Mom had cherries and it was immediately added to the grocery list. After our healthy dinner of baked chicken and veggies, the Home Hot Fudge Cake was the perfect way to negate our supper.
Why not jot a note to someone you love over a Home Hot Fudge Cake, your favorite adult beverage, sparking water or anything that makes your heart happy? Mention you read this on the Happily Connected Blog and receive 20% off personalized stationery!!