Jessica and Ryan met in 2017 at a gathering in a mutual friend's home to connect people in the community of Austin Peay State University. Ryan would later propose at that very same home three years later. They grew close together as friends before realizing that they wanted to be so much more!
Jessica and Ryan's intimate wedding on August 8, 2020 was absolutely perfect! Although it was a small crowd due to the pandemic, it was still full of love, laughter and happiness! The couple originally planned their beautiful wedding to be in August of 2020 prior to the unforeseen circumstances of this year. For the safety of their extended friends and family, they decided to postpone their large gathering and hold a more intimate ceremony instead. Their day was filled with much love and joy despite the circumstances! Jessica and Ryan are proof that nothing, not even a pandemic, can stop the love of two people!
This type of wedding has become very common in this current world that we are living in right now. Most people who were supposed to have large weddings in 2020 more than likely had everything (or most) planned before the COVID-19 pandemic hit. While it's not ideal to have to postpone or cancel your wedding, having a small, intimate ceremony like Jessica and Ryan's in place of a large gathering is a great alternative! (Then you can celebrate a larger crowd once it's safer for everyone) Just because a wedding is small doesn't make it any less fun,  magical and perfect! (even if it's just the two of you)
Fernbrook Films
captured their lovely day absolutely beautifully! Click below to watch their full video!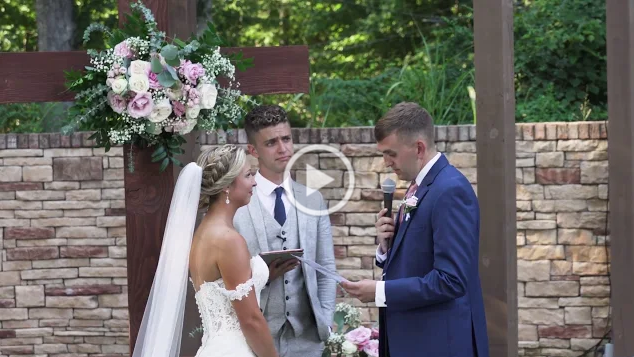 Below are photos that were captured by Alison Weakley Photography of the couple's nuptials as well!