It's time to start shopping for your wedding dress! To help make the process less stressful, we asked Tess with Couture by Tess Bridal for a list of the Top Questions to ask your Bridal Boutique before saying Yes to Your Dress!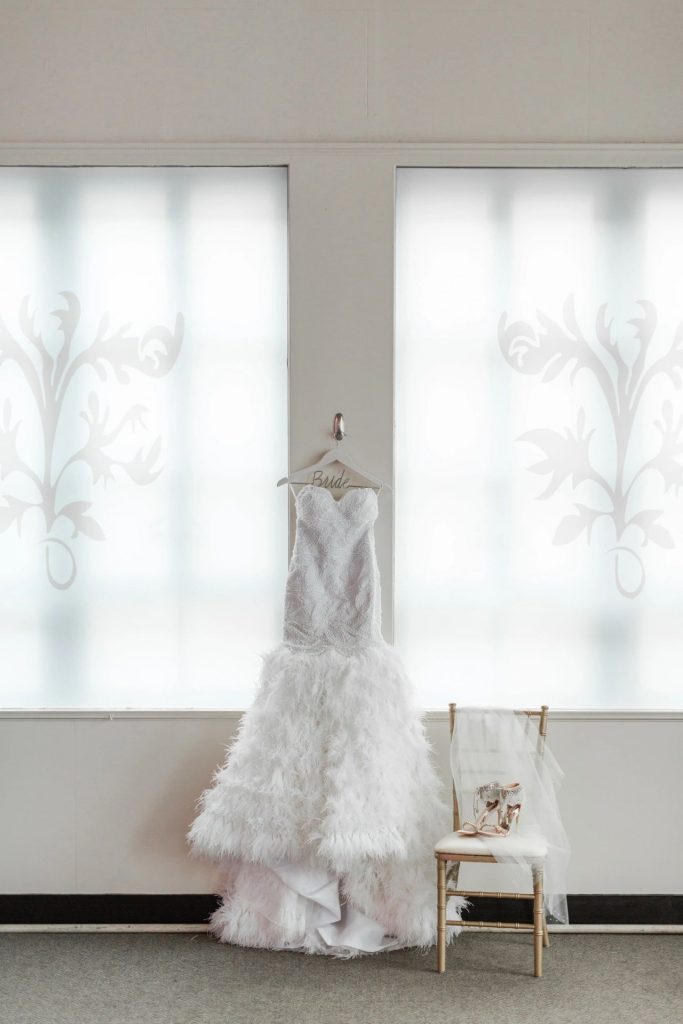 Do I need to make an appointment? 
Most Bridal Boutiques do require appointments in order to ensure dressing rooms are available as well as the necessary staff.  Calling ahead to book your appointment will provide you with the best possible customer service experience.  Couture by Tess Bridal is happy to accommodate walk-ins, but again it is in your best interest to call in a few hours before and make sure we have a dressing room available.  Saturdays and Sundays are the busiest days of the week, so walk-ins are better during the week.
How long do appointments usually take? 
Couture by Tess Bridal allocates 2 hours for each bride.  Trying on wedding dresses can be exhausting both physically and mentally.  Anything longer than 2 hours and it becomes a need to "find a dress" versus the optimal "I chose the perfect one". Did You know most brides do "not cry" when they find the perfect dress?  Crying is usually a release of tension and stress.  Certainly a few brides do cry, but it is usually nostalgic wishes for a family member who is no longer with them or couldn't be here for the actual wedding dress shopping experience.
Can I bring guests with me to the appointment?
The optimal number of guests are two people, three at absolute max.  Too many people, too many opinions, and most tend to forget it's not their wedding.  They fail to support the bride but rather impose their own ideas of what they like on you versus listening to what you really like.  However, with new CDC guidelines related to Covid-19 and other airborne pathogens, the 2-guest minimum will probably be adhered to fairly strictly for a while.
Does my wedding date present any limitations?
Most wedding designers do require 4-5 months to produce a wedding dress.  Some designer's factories such as Pronovias, require 6-8 months.  If you do not begin wedding dress shopping at least 6-8 months prior to your wedding date, you need to be open to purchasing an in-stock dress.  You also need to be able to accept a wedding dress that may not have all the elements of your originally envisioned "dream dress".  Custom Original designs?? – expect 12-18 months from paper design to completion.
What type of gown will suit my figure and wedding venue?
Listen to your bridal consultant.  A really good bridal consultant will actually obtain a full picture of your wedding, the venue, florals you have in mind as well as what you are envisioning as you walk down the aisle.  You MUST be open to listening to your bridal consultant's advice.  Just because you love the look of a mermaid, it does not mean that this form will flatter your figure.  A really good consultant will be more concerned regarding finding the most appropriate dress for you rather than just trying to sell a dress because that's "What the bride wanted". At Couture by Tess Bridal, I want my brides to be elegant and beautiful, sassy but classy.  I won't sell a dress to a bride if I truly believe it's not in her best interests.
What happens if I lose or gain weight before the wedding?
Be careful about maintaining your weight, especially if you are placing a special order.  Special orders cannot be refunded under any circumstances, and although Couture by Tess Bridal will offer an exchange, most bridal boutiques will not let you place your money toward another wedding dress purchase.   If you are purchasing an in-stock dress, modifications such as installing a corset back can assist with waistline changes.  If you are planning to lose a great deal of weight, you must be prepared to spend approximately $100-$200 on alterations for the sides of the dress alone.  If the dress has extravagant beading, you are looking at a large amount of money to replace the hand beading, your cost just went up to about $350.  Very few bridal boutiques have specialists n hand beading.  Couture by Tess Bridal is a renowned specialist in hand beading and other refinements.
What should I bring to the fitting?
The actual initial fitting should be 3-4 weeks before the wedding.  You need any undergarments you plan on wearing and the shoes you have chosen to wear with the wedding dress.  If you have not yet picked out your shoes, or they have not yet arrived to you, then you should bring a pair of shoes which are the height of the shoes you plan to wear.
How many fittings will I need?
In most cases, expect 2 fittings, one to fix the initial concerns, and the 2nd to make sure the alterations look good.  If you are having extensive work completed on the dress, expect to have 3-4 fittings.
Are alterations included in the cost of my gown, and what do they average?
Unlike many other Bridal Boutiques, Couture By Tess Bridal is actually an Atelier (fancy name for designer & seamstress).  At Couture By Tess Bridal, basic alterations are INCLUDED with your wedding dress purchase (simple hemming, taking in the sides, lifting shoulders and your train bustle).  Most other Bridal Boutiques charge for every element of alteration.  Most brides are shocked by $400-$600 in alteration fees by other Bridal Boutiques.  To help with those fees, shop at a boutique that offers some free alteration services with the price of your couture dress.
What can I expect to pay for the dress?
Prices vary depending on where you shop and the quality of the dress. I cannot say this enough, if you are dating someone seriously, you need to begin saving and budgeting for a wedding dress.  A good quality, middle of the road wedding dress will cost somewhere from $1700 to $2,500.  Although you may be able to find a less expensive dress, be sure to compare apples to apples. A True quality wedding dress is finely crafted, beautiful materials, and has incredible internal structures and supports built in the dress to enhance and flatter a bride's figure.  If you haven't saved for your dress, look for a bridal boutique that offers lay-a-away plans.
What additional fees should I expect to pay?
Usually, alterations, petticoats, veils and bridal jewelry are not included with the purchase of your wedding dress.
When do I pay for the dress?
It depends on your purchase.  Sale dress items under $1,000 must usually be paid in full at the time of your appointment.  In-stock dresses over $1,000 may require a 50% deposit.  Once again, check if the bridal boutiques have 60, 90 and 120 day and 6 month lay-a-way plans.  Plans may still require 25-25-25-25, 35-35-30 or 50-50 plans.  If your wedding date is less than 6 months out, be prepared to pay for your dress within 60 days of the date of purchase.
What is your cancellation policy?
The state of TN only provides a 3 day "buyer's remorse policy" unless otherwise stated by the business. MEANING – State of TN has 3 days policy, but a bridal boutique contract may say "All sales are final and non-refundable". This means you are not entitled to any refund even if you change your mind within less than 3 days. MAKE SURE YOU SIGN A CONTRACT!!!   If you didn't sign a contract, you may have a little wiggle room within 3 days, but don't count on it especially if they had signs posted within the boutique.
Can I buy the sample? 
This can vary depending on the boutique. At Couture by Tess, Absolutely! Regardless of where you are shopping if you are buying the sample, ask for $100 to $200 off the ticked price – UNLESS it is already posted on sale. If it's already on sale, the boutique may already be taking a loss on the purchase price.  But be open with your bridal consultant if you really love a dress.  Let her go speak with the owner.
Will the dress be steamed at pick up?
This is often an extra concierge service.  Most bridal boutiques will not provide you any additional services unless you pay for them.  However, at Couture by Tess Bridal, we do provide our brides with beautifully steamed dresses after all alterations have been completed without any additional cost to the bride.  This is one of our many white glove services which has resulted in our 7-year, 5-star reputation.
What's the best way for me to store and transport my gown?
Transport for short distances – usually in a plastic garment bag to prevent exposure to weather such as rain and snow.
What's the best way for me to store my gown?
Storing your wedding dress- make sure it has been professionally cleaned or that you have gently washed it by hand in your bathtub.  The dress should be stored in a breathable, NOT plastic garment bag.  Store your dress in a bedroom closet which is receiving temperature control year-round.  Absolutely do not expose it to heat or sunlight.  NEVER store your wedding dress in an attic or in a basement.  Do not waste your money on "so-called" preservation services – the chemical processing destroys the integrity of the material making it breakdown within months of being exposed to natural air.
After reading Tess' advice on the Top Questions to ask your Bridal Boutique, click here to download & print our top questions to ask and take them with you to your wedding dress appointment. Happy shopping!