Let's Talk Paper. We asked Kim with paperkuts Studio to tell us more about the Invitation Suite. According to Kim, the top two questions couples ask her are "What is the cost of an invitation suite?"  and "What do I need?".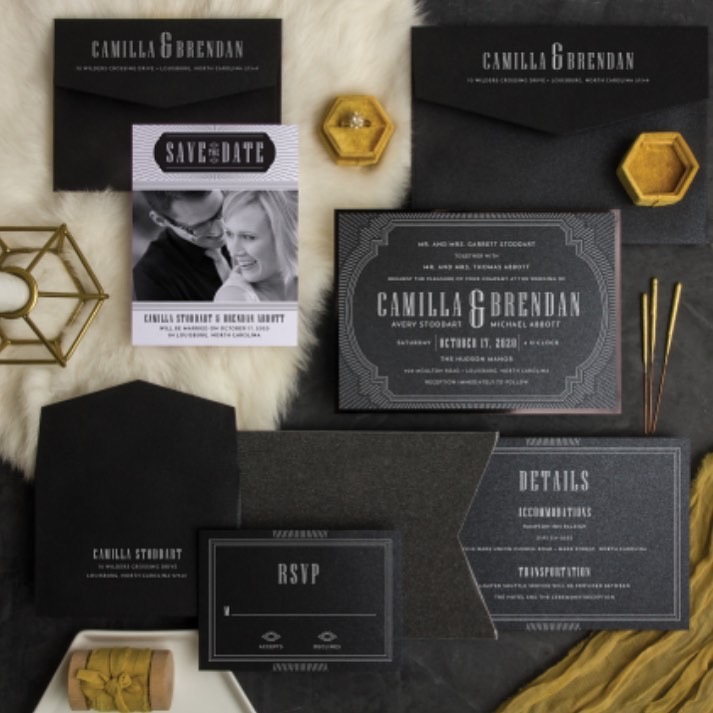 What does an Invitation Suite cost?
Pricing is subjective to what you desire and the possible additions. Assembly of your invitations-they do not arrive ready for the mail. Printing choices-foil, letterpress, glitter coating, thermography. Paper type and the weight. Pockets, liners, backers, die cuts. Proofs, shipping, rush fees (timeliness of when you place your order). Calligraphy, custom design, vintage stamps, postage. Whew!! This is only a random gathering of a' la carte items. Remember….pretty costs!! Allot 5-8% or more for your paper goods. There are so many gorgeous choices that align with any budget.
What do I need?
Next let's talk about what you need. Two elements are needed for your Invitation Suite: the Invite and the RSVP and accompanying envelopes and there are other items which are optional. We asked Kim to tell us about each element.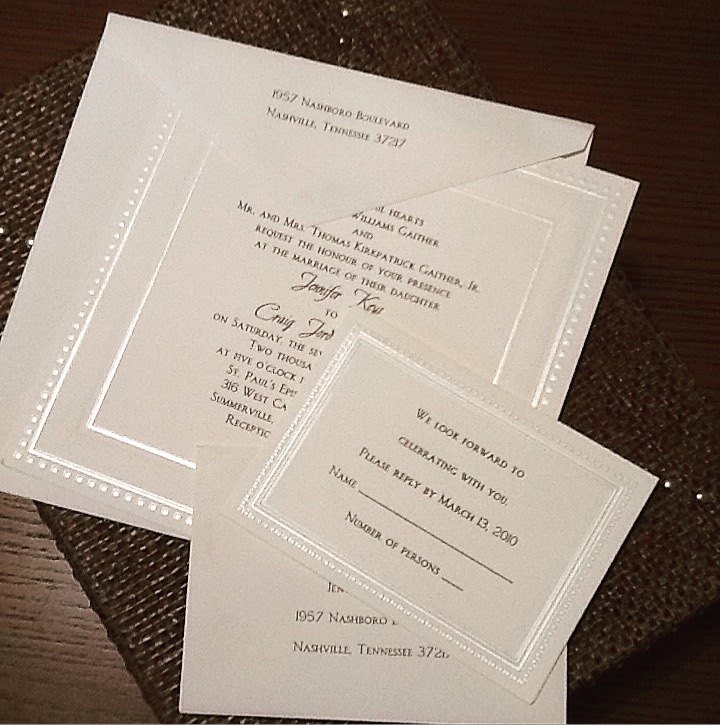 The Wedding Invitation
The invitation suite starts with the core which is the Wedding invitation. Yep, it's the catalyst for the event. It should include info on location, date, time and give the hint on attire. Most outer envelopes accompany the invite, but some are a' la carte.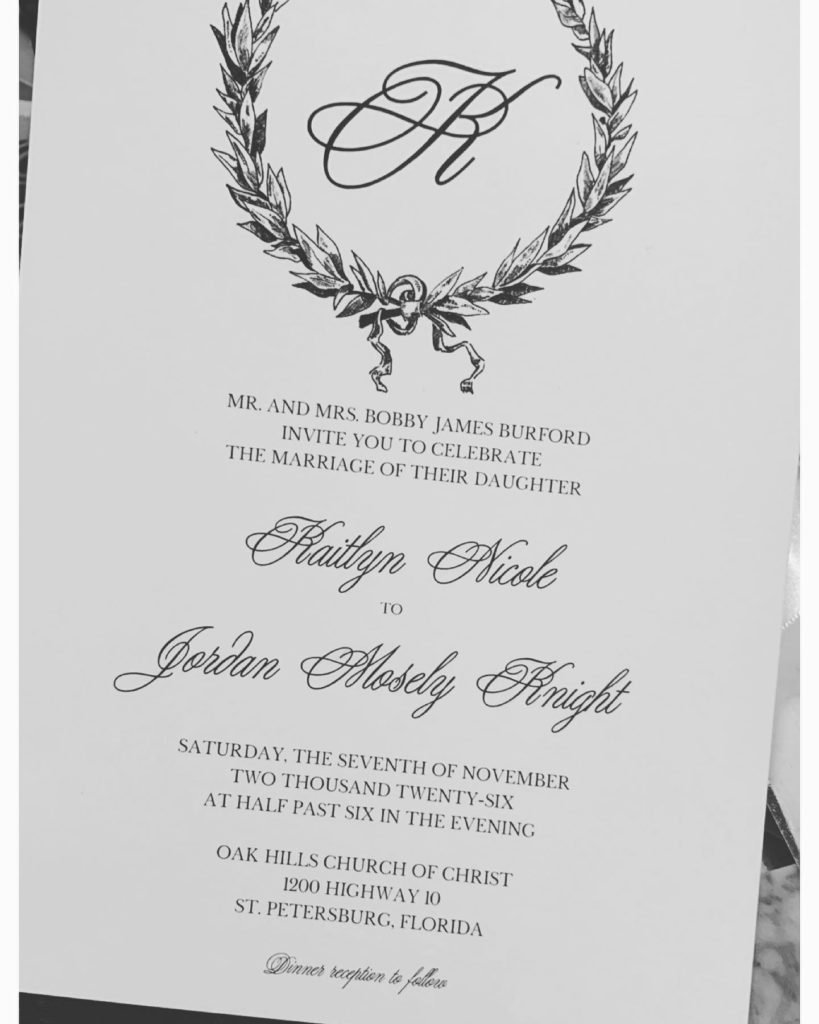 Response Card (aka RSVP Card)
Your response card, RSVP, will indicate who will or will not attend your nuptials. It will have your deadline for response and the name(s) of those attending. Some will include menu choices, as well. Your response envelope will be pre-printed with a return address and must include postage!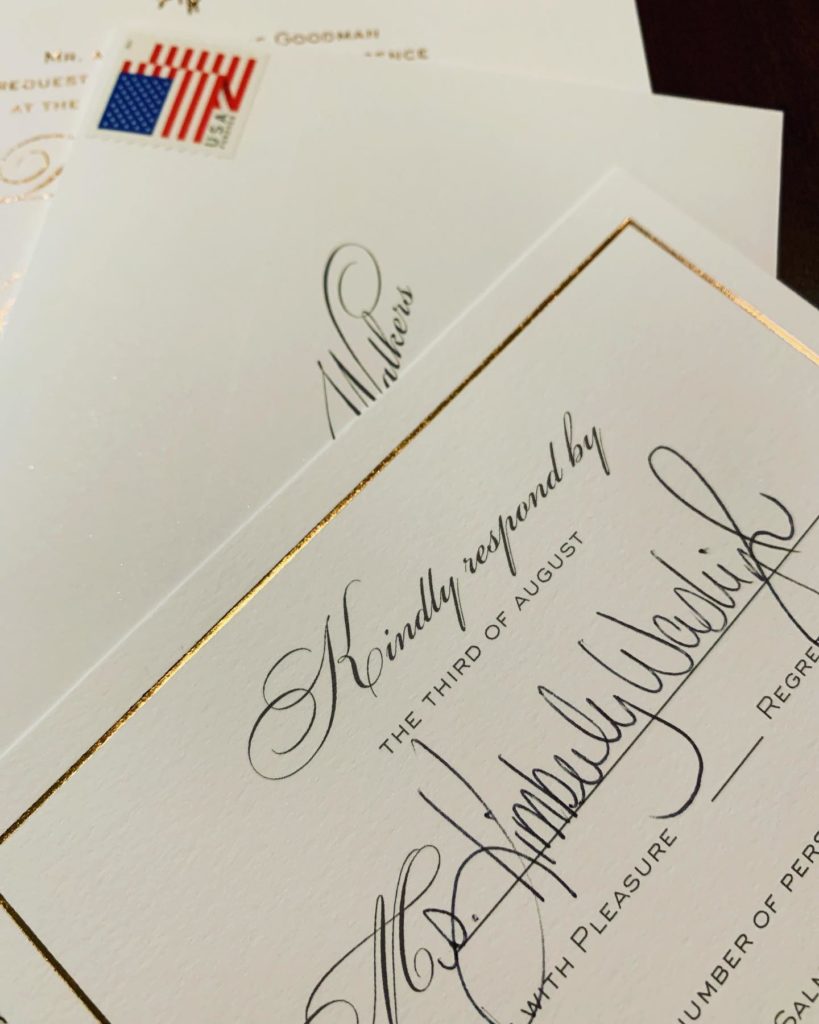 Reception Card (Optional)
A reception card lists the time, venue name, and address of your reception, if your reception isn't at the same location as your ceremony.  Omitting the reception card and putting the reception details on the invitation is a good way to shave money off of the budget.
Extra Enclosure Cards (Optional)
Extra enclosure cards are used when you need to share other vital information with your guests such as the rehearsal dinner invitation, post wedding brunch, an illustrated map, etc. etc.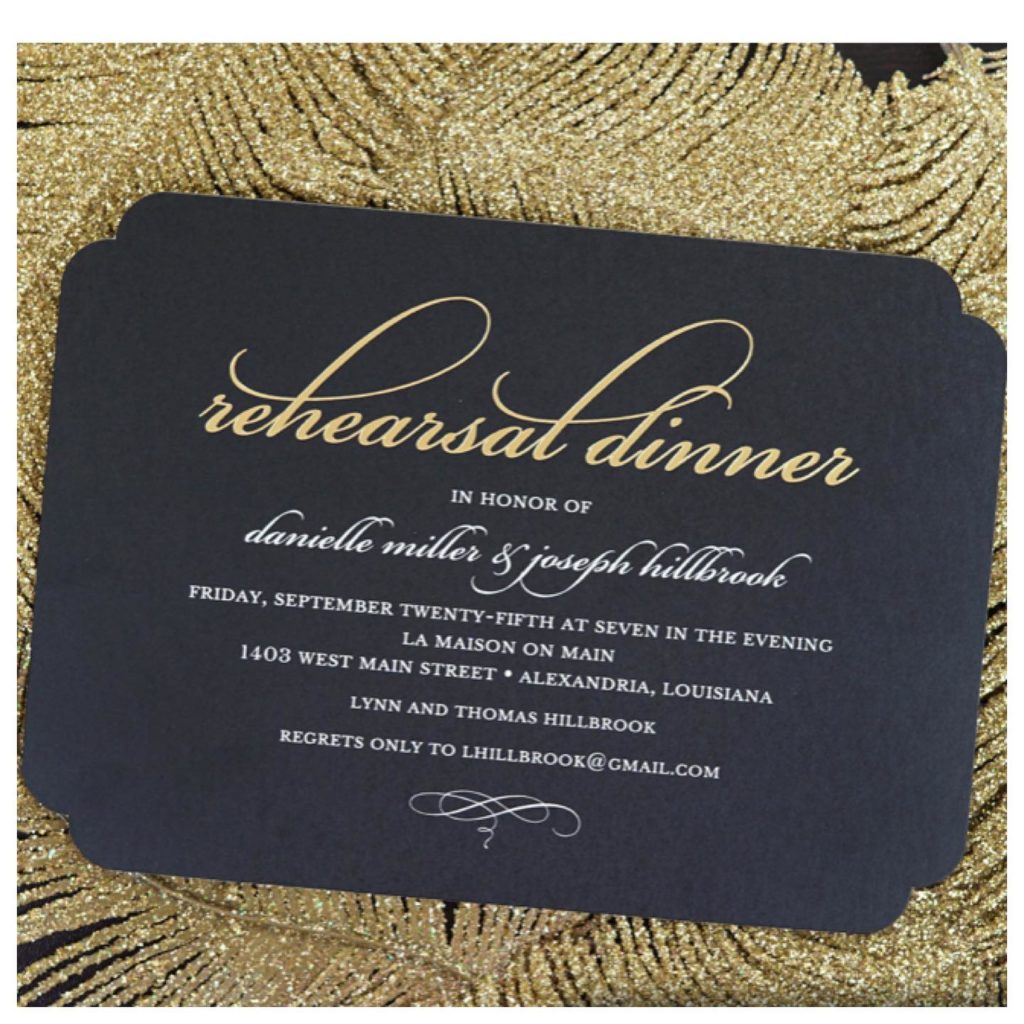 Note: Etiquette suggests you do NOT share your registry information with your invitation suite. Your wedding website is an appropriate place to list your registry information or it can be spread through word of mouth.
Outer Envelope
The Outer Envelope houses your invitation suite. Your guest addresses can be digitally printed or done with calligraphy. Always include your return address.  Make sure to have enough stamps!  Invitations due to their thickness, size and weight often require multiple stamps so be sure to take one of your stuffed invitation suites to the Post Office to have it weighed and measured for the correct postage.
Unsealed Inner Envelope (Optional)
The Inner Envelope is traditional and helps to preserve the invitation. This envelope is digitally printed or hand calligraphed with the guests names only and housed the invitation suite and then is placed unsealed inside the outer mailing envelope.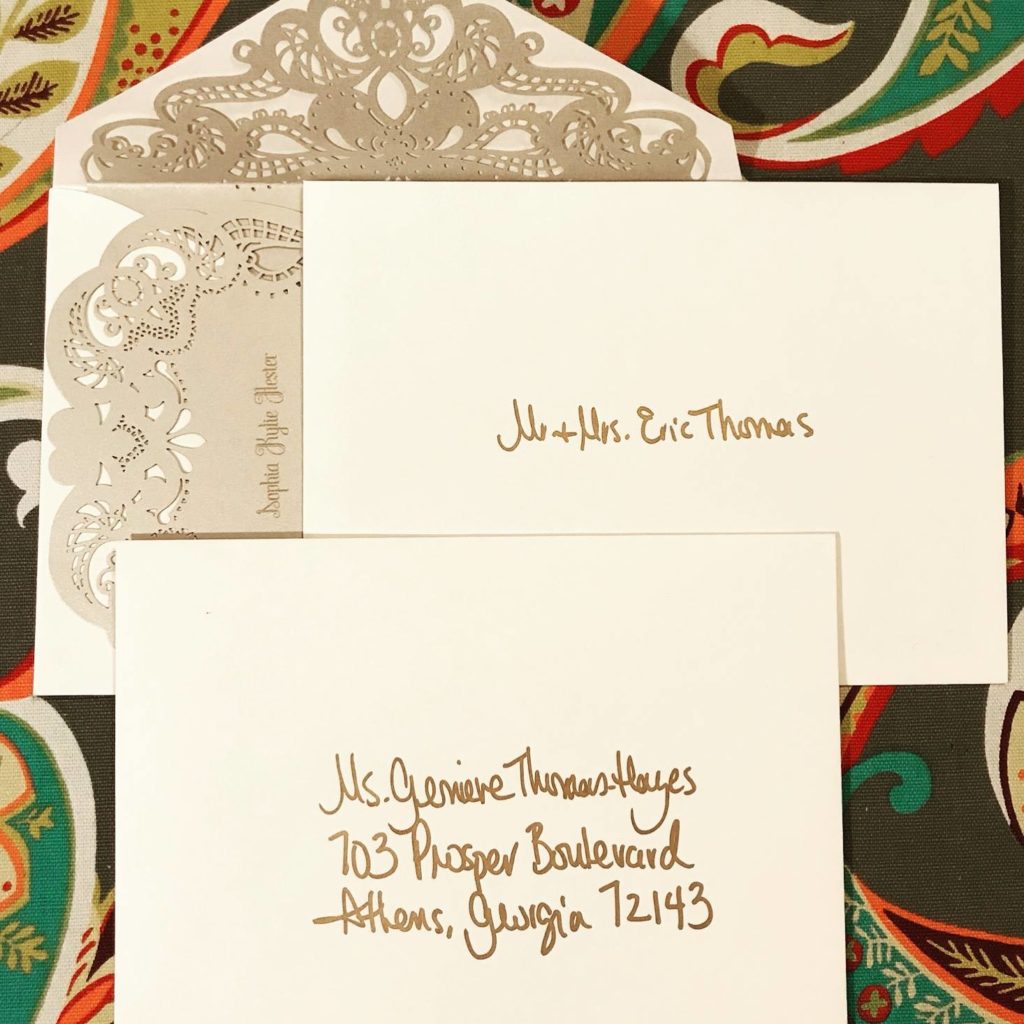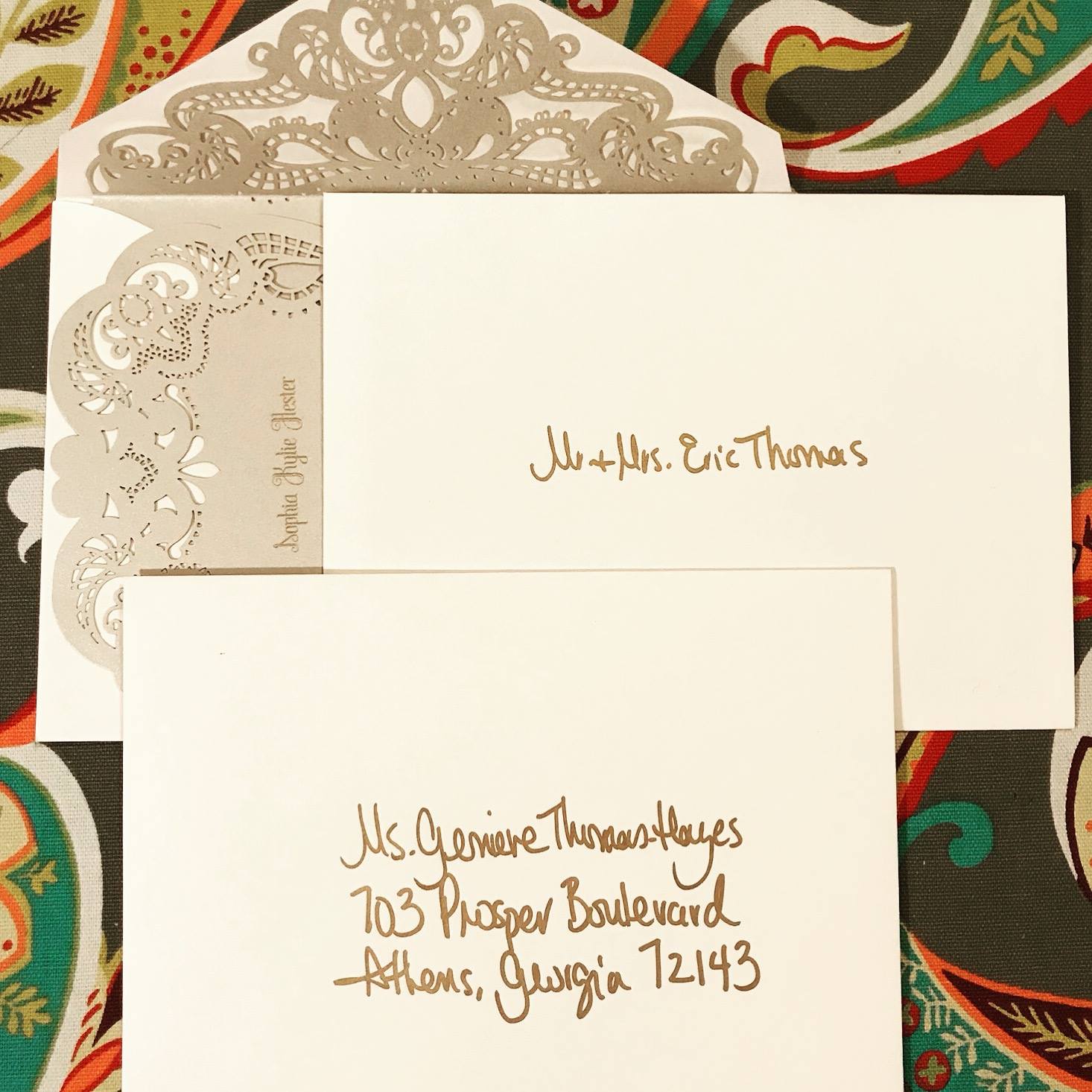 Assembly
You've ordered several pieces for your invitation suite and what's next? There is a proper way to assemble your invites. Always, always clean hands and no fancy nail color. Top tips: the invite should face up, enclosure cards are next, the STAMPED RSVP envelope with the RSVP card on top. All printed sides up. Address your outer envelopes before your place your paper goods inside. It's always great to take your suite to the post office to weigh it, as well. Proper postage is a must.
Do you know that your paper extends beyond invitations?
Within your budget, most often, items like menu cards, place settings, programs, napkins and other paper products aren't included. These details, just like your invitations, assist in setting the tone for your event.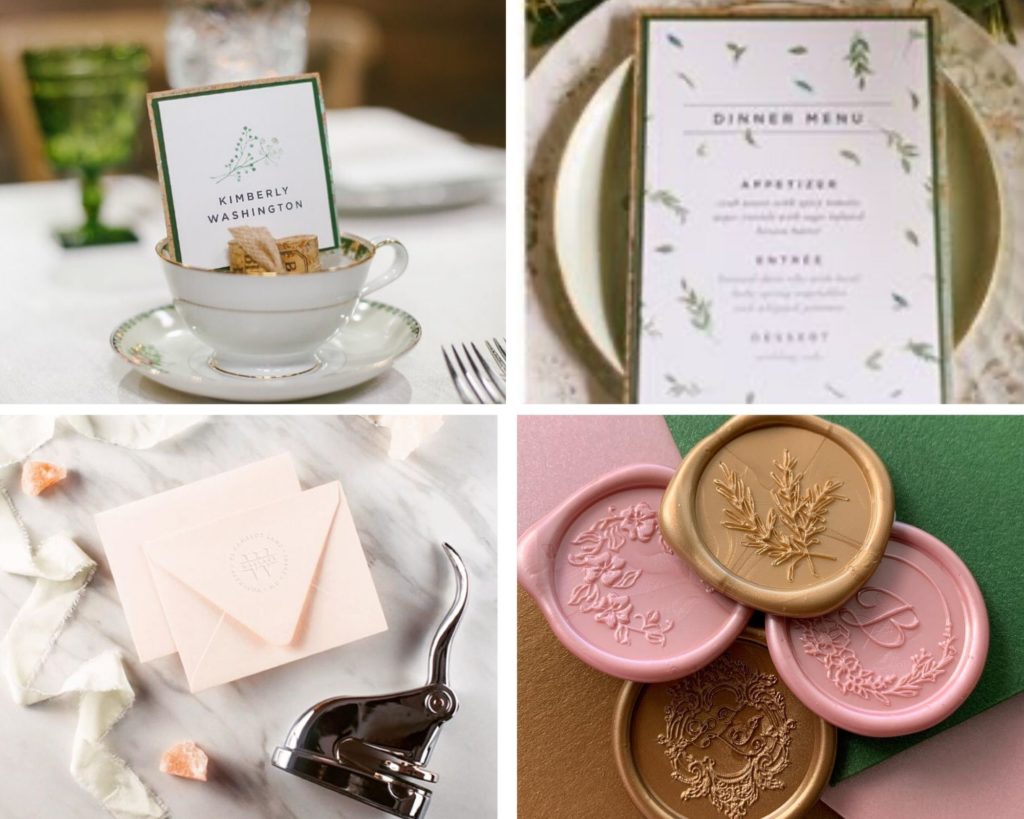 Coordinate
'You've got to cooo-oordinate'! Do you know that movie line? Anywhoo…it's Wedding Tip Wednesday and let's coordinate! Do you envision a theme for your nuptials? Everything from the save-the-dates, announcements, napkins, favors and thank you cards must 'cooo-ordinate'? If so, work with your stationer to purchase as much as you can from one company. Your font, motif, ink color, paper and such will be consistent.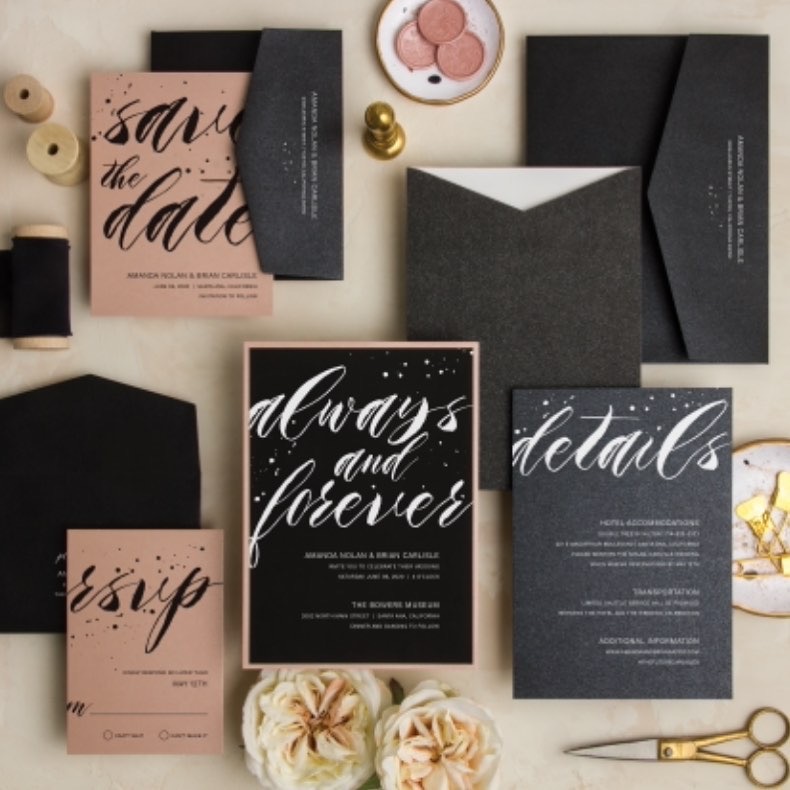 Want to talk details? Email Kim at kim@paperkutsstudio.com. Kim loves paper and would love to help you with all of your paper details!