Looking for the perfect song for your Mother-Son dance to let your Momma know just how important she is to you? We asked C.T. with the Music City Sound to give us a list of 15 Unique Mother-Son Songs that haven't been used a million times.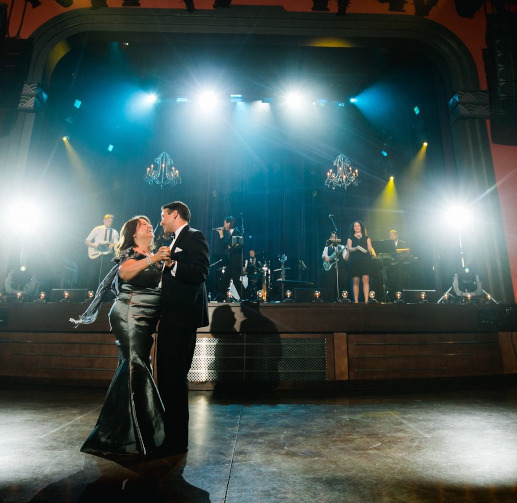 Here are 15 mother-son songs that everyone else hasn't already chosen…
 "Upward Over The Mountain" – Iron & Wine
This deep cut from Iron & Wine is a poetic, ominous masterpiece from the popular group. Certainly not a tone that fits every situation, but definitely rings true in many ways.
 "So may the sunrise bring hope where it once was forgotten
Sons are like birds, flying upward over the mountain" 
"I'll Be There" – The Jackson 5
Everybody loves Michael…enough said.
"In My Life" – The Beatles
"Though I know I'll never lose affection
For people and things that went before
I know I'll often stop and think about them
In my life I love you more"
Ok…cue the tears.
"Loves Me Like A Rock" – Paul Simon
"My mama loves me, she loves me
She gets down on her knees and hugs me
She loves me like a rock
She rocks me like the rock of ages
And she loves me"
"My Mother's Eyes" – Willie Nelson
Ok Moms…You probably can't pick this one for yourselves without seeming a bit vain, but if you have a son who picks this for you, he definitely deserves a bump in the will!
"One bright and guiding light,
That taught me wrong from right,
I found in my mother's eyes."
"Lean on Me" – Bill Withers
A timeless classic that speaks the universal message "I've got your back!". A sweet message that can be translated from Mother to Son, or Son to Mother.
"God Only Knows" – The Beach Boys
"God only knows what I'd be without you"
What momma wouldn't love to hear something as sweet as this!
"You Cannot Lose My Love" – Sara Groves
This stunning piano driven ballad by Sara Groves is a great addition to the lineup. A very uplifting and supportive song that can carry a strong message from mother to son.
"Beautiful Boy" – John Lennon
All Lennon fans unite. This great B-side offers a simple, sweet, yet touching image of the unending love from parent to child.
"Turn Turn Turn" The Birds
A timeless classic about the seasons of life…everything ain't always easy, but even tough times only last a season.  This is a personal favorite of mine.
"A time to build up, a time to break down
A time to dance, a time to mourn
A time to cast away stones, a time to gather stones together
To everything (turn, turn, turn)
There is a season (turn, turn, turn)
And a time to every purpose, under heaven"
"All You Need Is Love" – "The Beatles"
Truth…Simple…go Beatles.
"You Are My Sunshine" – Johnny Cash
We have to put a tear jerker in here… This beautiful rendition by the "Man In Black" will leave no one with a dry eye. Just be sure to leave out the verses about past lovers…might get a bit confusing!
"I Say A Little Prayer" – Aretha Franklin
Every momma needs to belt a power ballad to their little ones…this one fits the bill.
"forever and ever, you'll stay in my heart, and I will love you"
"Oh, Mother of Mine" – The Temptations
This song is just too much fun…a great way to keep things light!  And us son's could always use a bit of good advice from momma!
"Sweat Pea" – Amos Lee
Light and heartfelt, this tune will keep the two of you smiling while you two-step. A sweet, yet simple message of love.
Not working for you? Are these songs too much of a stretch?
Don't fret… You can still make your dance unique. Something that is always a pleasant surprise to the ear is when the band covers a cover. Take a classic song that is a safe choice but add a pleasant twist by choosing a cover of your favorite pick. The band Shinedown does a great cover of a super popular mother-son choice "Simple Man". Ortopilot does a wonderful acoustic led cover of "You've Got A Friend In Me". Get creative with the classics if you prefer. It's always a unique twist when this is executed well…
Tips From The Band
NOW THAT YOU'VE SELECTED THE PERFECT SONG, LET'S CHAT ABOUT A FEW THINGS YOU MIGHT NOT HAVE THOUGHT ABOUT.
Tempo – Is everything perfect about your song choice but the tempo?  Is it too slow to dance to, or possibly too fast?  Not to worry…one of the perks about hiring a live band is that we're super flexible with how you'd like us to execute your song live. Just make a note to let the band leader know that you want your song "danceable"…any good band will take this note and make the proper adjustments.
Time – We see this often and is something worth putting in BOLD. The first dances are super sweet, but no one thinks about how lonnnnnng certain songs are. Most people (dancers, or dance watchers) don't want to be stuck in four and a half minutes of swaying with everyone's eyes on them. Tell us to shorten it up a bit. Our magic number has been right around one and a half or two minutes. If you have specific verses, or parts of the song you specifically want the band not to cut, just let us know and we'll craft the perfect arrangement for you.
NEED A LITTLE MORE TIME TO THINK ABOUT IT? NOT TO WORRY…C.T. MADE YOU A SPOTIFY PLAYLIST OF ALL THE SONGS MENTIONED SO YOU CAN CRUISE AROUND WITH THEM WHILE YOU NARROW IT DOWN. JUST CLICK HERE!
Give up? Wanna just go with what you know?  There's no harm in that! Pick a song that's special to you and she'll love it!
Hopefully, these tunes will add a cheerful step during your hunt for the perfect Mother-Son song.